Tag Archives:
Jean-Phillipe Imparato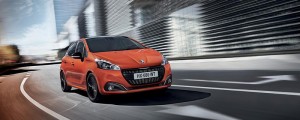 Peugeot CEO Jean-Phillipe Imparato made a surprising claim recently when he said that the brand has no plans of creating a dedicated EV anytime soon. This statement was made at a time when every car manufacturer, from Kia to Ferrari, is working on EV concepts and dedicating a team to produce them faster.
Imparato is confident that Peugeot will reach its carbon dioxide emissions target for 2021. Car manufacturers in Europe are mandated to keep a check on emissions produced by their vehicles in an aim to lessen CO2 emissions by 2021. The Peugeot head said the brand does not need to launch an electric vehicle and take a hit to reach the target. To protect the operation of the French automaker, Imparato said there are plans to launch a mix of powertrains.
However, this does not mean that the company is anti-EV. While Imparato sees no need for a dedicated EV for now, he did say that he wants Peugeot to lead the way for electrification. By 2019, 8% of Peugeot's model lineup will be electrified. By 2020, that number will be 50%. He believes that the transition to electrified vehicles should not be done in the future. It should be today.
Imparato is not closing Peugeot's door on EV. He did say that he would want a dedicated EV for the brand in the coming 10 years. For now, though, what they can offer is a "modular platform" that will cover all markets—electric, hybrid, petrol, and diesel.
Peugeot's clear plans should be trusted, considering that it reported a sales growth of 10.4% in the previous year. Its siblings, the Citroen and DS, reported negative growth. Imparato said the export of vehicles helped Peugeot grow exponentially. However, China and Germany and many other countries will ban Internal Combustion Engines by 2025. Let's see how Peugeot will play through this.