Tag Archives:
jeep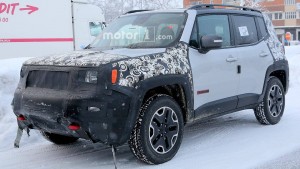 Now that it's in its midway point of life, the Jeep Renegade is about to receive some minor upgrades. The spy shots recently shown revealed two things: there are no major changes on the Renegade's exterior but its interior might receive some upgrades.
The prototype for the Renegade was recently seen camouflaged and all. It is slated to be revealed later this year and will be produced as a 2019 model.
The Renegade's cute exterior is something we all loved about it and thankfully, Jeep won't be making any huge adjustments on that part, except for some minor tweaks on the front and rear fascias. But with all the camouflage gear we've seen the Renegade in, it's hard to tell what changes are we talking about exactly.
Inside, the changes are more interesting. The new Renegade's center stack will be redesigned with a larger infotainment screen. You'll also find the climate control dials on the center stack, similar to the ones recently revealed in the 2019 Jeep Cherokee.
There are no exact details yet on the powertrains, though we're hoping there could be some upgrades in this front. It's possible that we'll get to see the 2.0-liter turbo, same as with the Cherokee and the Wrangler. That would be a good replacement for the Renegade's current 2.4-liter mill. The only problem is that the turbo might be too powerful for the Jeep's pint-sized Renegade.
We'll have more details about the new Renegade hopefully in the coming weeks.
Check out the spy shots of the new Jeep Renegade taken by Motor1 in the gallery below: