Tag Archives:
kicks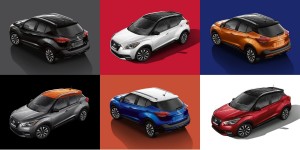 Nissan announced that its tiny subcompact SUV, the Kicks, will just sell for $18,965, making it the cheapest option in its segment save for the crowd favorite Kia Soul. The Nissan Kicks doesn't seem to be a lot fun as its predecessor, the Juke, but the low price tag might be equally appealing for some.
The Kicks will only be powered with 125 horsepower, as opposed to the 188-horsepower turbo-four that the Soul is fitted with. And compared to the price, the Kicks is cheap, too, though not as affordable as Soul's $17,095 price tag (or $18,695 with its optional automatic transmission.
The Kicks will only get three trim levels—the S, the SV, and the SR trim levels. It will also only come in front-wheel drive and continuously variable automatic transmission. The entry-level mode, the S, isn't equipped with anything special with its 16-inch wheels, hubcaps, and lack of proximity-key entry. It will, however, come standard with automated emergency braking, Bluetooth, and a backup camera, which is a requirement for all new cars.
The SV is priced at $20,665 while the SR is coming at $21,265. Nissan hasn't revealed yet what equipment these two trim levels will come in. Based on reports, optional equipment will most likely include blind-spot monitoring, a 7.0-inch touchscreen with Apple CarPlay and Android Auto, and a Bose audio system as part of the SR Premium package. There is no word yet, too, if the upper trim levels will receive engine upgrades.
But if you're going to shell out more than $21,000 for Kicks' SR trim level, it better have more than just the usual tech found inside same-priced vehicles.
The other trim levels might also have more options when it comes to color schemes. There might be two or more color schemes to choose from that will have either a black or white roof.
There will be more details in the coming weeks, ahead of the Nissan Kicks' sale in June.