Tag Archives:
Le Mans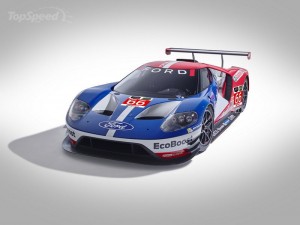 The 2016 Ford GT Le Mans race car is set to make its debut on the race track at the 2016 Rolex 24 at Daytona before finally running the full schedule at the FIA World Endurance Championship and the TUDOR United SportsCar Championship.
It can be remembered that the iconic Blue Oval officially made its return at the 2015 Detroit Auto Show after nearly a decade. This marks the car's entrance to the race track family again.
Outside, the Ford GT is easily recognizable as a GT in racing apparel, though it had extensive body modifications for maximum downforce and minimum drag. The front end, in particular, has little resemblance to the good old GT, except for the vented hood and trapezoidal grille.
The bumper is less intricate in styling and has a massive splitter. It also sports a pair of new headlamps that are shaped slightly different from the standard car.
Although Ford decided to keep the standard design for the sides, it added larger side skirts that can now handle exhaust outlets toward the rear wheels—four race-spec, ultra-lightweight rims wrapped around Michelin tires.
There are plenty of changes at the back, but these are mainly the flat spoiler and the rear bumper. The GT's rear end is the most aggressive of any LM GTE cars, reports said.
Of course, the car is dressed in the American flag's colors with the "24 Hours of Le Mans" racing number stickers.
Inside, it is way too loaded for a race car, although most of the gears are essential for racing. The multifunction, racing steering wheel, however, will be in front of a much simpler instrument cluster.
The Ford GT race car will make use of a 3.5-liter EcoBoost V6 engine used already on its IMSA Daytona Prototype endurance racer. This engine can produce about 500 horsepower, though this would depend on the final weight of the racer.
Capping off the drivetrain is a seven-speed, dual-clutch transaxle, which will allow the GT to reach top speeds in excess of 200mph. It can also go 0-60mph in less than 3 seconds.
Photos via TopSpeed