Tag Archives:
Lexus GX 460
Land Rover LR4 is an impressive SUV to look out for in 2014 with its impeccable off road and towing ability that offer enough room for seven passengers to sit comfortably. A rather refreshed version of its predecessor LR3, the highly anticipated SUV of 2014 comes with revised exterior, powerful engine and luxurious cabin, which are worth its price. Minor aesthetic redesign for this year's version is like icing on the cake that offers front grille, redesigned front bumper, smart headlights that boasts of LED accents.
A sharp look at 2014 Land Rover LR4 keeping its front end aside shows a very little to no change in its body which has remained the same constantly since it was first introduced in 2009, along with that the overall silhouette looks inspired from their 1989 original discovery SUV.
The 2014 Land Rover LR4 SUV comes with an efficient 3.0 liter V6 engine which is far better than its fuel thirsty V8 engine from previous versions; the supercharger generates 340 horsepower with 331 lb-ft. of torque. Brand new eight speed automatic transmission specifically designed by ZF is a highlight to look out for. This multi utility heavy weight vehicle has the power to sprint from 0 to 6 mph within the fraction of 7.7 seconds and is able to reach the maximum speed of 121mph. the newly added transmissions allow LR4 to achieve mileage of 14mpg in the city which can go up to 19mpg while on the highway with premium gasoline.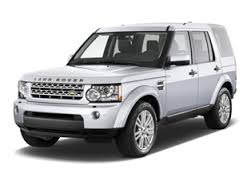 Not many buyers will be keen on taking their LR4 off the pavement, thus it comes with a standard transfer case which is a single speed unit that offer maximum 42 to 58 percent front rear torque split. However, buyers can also opt for a two speed unit, which is also available as an option for those looking for off road driving. The future car is loaded with several standard features that make it worth buying, wherein the primary ones include adjustable air suspension which helps in improving on road ride and handling, however no comprise has been made to its off road prowess which makes it stand among the top most SUVs. The highly admired terrain response system of Land Rover helps in optimizing vehicle in difficult situations. The terrain response for 2014 Land Rover LR4 is available with five settings: general, grass/gravel/snow, mud/ruts, sand, and rock crawl.
Up-market standard leather upholstery, power seats, alpine glass rear roof, seven inch touch screen panel with sound system and USB port, 19 inch alloy wheels and many are more are some of the features that makes 2014 Land Rover LR4 an interesting option to look upon in 2014.
Land Rover LR4 is ready to hit the market in 2014 with its base, HSE and HSE LUX trim levels which will surely face tough competition from the likes of BMW X5, Acura MDX and Audi Q7 as they have refined on road driving aesthetics to offer, however, in terms of road prowess only Lexus GX 460 can make the going tough for 2014 Land Rover LR4.
The new Lexus luxury utility vehicle (LUV), 2014 GX 460 gets all gussied up and quite extensively so that the mid-sizer seems less a truck than a Lexus on stilts. The freshened up GX 460 went through far deeper facelift than the now-trademark spindle grille and the LED applied to the Lexus LX 570 last year. The equally tough and trail SUV now boasts gigantic rear fender flares and  striking front grille design that marks the extreme L-finesse. Though not the sleekest SUV in town, the 2014 Lexus GX 460 prides itself on global heritage just like Toyota LandCuiser Prado! Also the truck like demeanor is evident of the fact that this is going to be, if not the best and the most rugged, one fine play on the market of off-roaders. And all of it comes under a reasonable price despite additional technology and safety equipment that are included as standard. Cherry on the cake!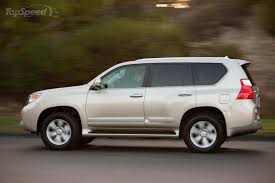 The raised roofline, necessary to make sufficient space for the third row of the newly designed seven-seater still got generous ground clearance of about 8.3 inches minimum. The unconventional hour glass shaped grille on the Lexus GX 460 though getting mixed responses is still unique and is sure to make the little SUV to turn heads and stand out. The LED daytime running lights in headlamps are a success. Lexus's white LEDs are every bit bright as bright and helpful on roads as in SUVs from Audi or BMW. Excellent for low visibility conditions these LED lights use a very little amount of energy and provide a prominent light graphic for road safety. The clear taillights are strange as the fashion aware buyers of the Lexus legacy might question them but they still strike out.
The midsized SUV, 2014 Lexus GX 460 sports a 4.7 liter V-8 engine belonging to the Tundra pickup. Generating enough power of 301 HP and mated to an all-new-five-speed-automatic-transmission and a Torsen center differential which biases the torque (329 pound feet of torque) towards the end with traction, this engine makes this SUV maneuverable with a  light duty full time four wheel drive. The car can reach up to 60 mph from rest in a sprint time of 8.5 seconds while it sports a top speed of 112 mph. The undeniable capability and the body-chassis structure of the new 2014 Lexus GX 460 make it deft enough to be creek-and-groan-free in the rough. However, being more of a luxury utility vehicle you might want to keep it away from way too nasty conditions for it is quite plushly outfitted for that.
It is expected that the 2014 Lexus GX 460 will be seen competing with the BMW X5 and the Mercedes ML500 and possibly Merc GL too while it's priced at a sum of $45,000. For the love of a gritty feel of a 4WD truck underneath your seat the GX is massively appealing. This purposely built off road machine is added with extra style and so much luxury along with a giant price cut making it one definite consideration among serious SUV fanatics!