Tag Archives:
luxury cars
Philippine President Rodrigo Duterte, who is leading a hard stance on smuggling, oversaw the destruction of smuggled luxury cars last Monday at Port Irene on the town of Sta. Ana in Cagayan Province, Philippines. This is the second time that the Filipino leader led the crashing of luxury cars—the first one happened in March this year.
A total of 68 contraband luxury cars were bulldozered on Monday. The total amount was $5.5 million for the cars. Another set of eight luxury motorbikes valued at $370,000 were also destroyed in front of the President.
The destruction of the cars was part of the Philippine government's anti-corruption and anti-smuggling programs. Efforts to curb the corruption in the government have been rampant since Duterte took the seat at Malacanang.
Among the luxury cars crashed during Monday's program were the Lamborghini Gallardo, Porsche Carrera, and Mercedes-Benz SLK 280. Among the newest condemned vehicles were car models from 2006. These makes are the same ones destroyed during a similar operation in March.
Though many believe that the Philippine government should have just sold the luxury cars for profit, it has been Duterte's policy to destroy smuggled cars because circulating it again in public will still rake in profit for the smugglers. He stated that this operation will discourage smugglers.
On social media, netizens raved about Duterte's actions against the smuggled cars. While there were past reports about these luxury cars being laundered off to line the pockets of government officials, the President took a time off from his busy schedule to make sure that the cars were destroyed and nobody would profit from them.
In a press release, he said that "You have to show to the world that you have a viable place of investment and business."
"And the only way to show it is that you are productive and that you have the economy to absorb the productivity of the population," he added.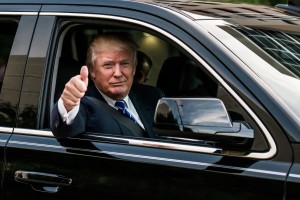 A short Tweet from US President Donald Trump is causing a lot of panic for German luxury car companies. The outspoken leader also singled out Mercedes-Benz in his statements.
Citing German magazine WirtschaftsWoche as source, Fortune said in their translation of the news that Trump is looking to ban German cars in the American soil. Unnamed diplomatic personalities close to French President Emmanuel Macron claimed Trump told his counterpart in France that he will be maintaining his trade policy "until no Mercedes models rolled on Fifth Avenue in New York."
Although there was a special mention of Mercedes in his statement, it was reported that the decision would also affect other German automakers like Porsche and Volkswagen (including its Audi brand).
Earlier, Trump was pushing for heavy tariffs on car imports. It should be noted that under national security laws, up to 25% levies can be imposed. That resulted in the stocks of European and Asian car makers sliding down. The Wall Street Journal traced the move back to Trump.
Saving Domestic Jobs
"There will be big news coming soon for our great American Autoworkers. After many decades of losing your jobs to other countries, you have waited long enough!" the flamboyant president posted in Twitter last May 23.
There will be big news coming soon for our great American Autoworkers. After many decades of losing your jobs to other countries, you have waited long enough!

— Donald J. Trump (@realDonaldTrump) May 23, 2018
Based on the US president's Tweet, he is keeping out the foreign players in order to boost domestic jobs. US Commerce Secretary Wilbur Ross defended the move saying, "there is evidence suggesting that, for decades, imports from abroad have eroded our domestic auto industry."
"When you walk down Fifth Avenue, everybody has a Mercedes-Benz parked in front of his house," Trump said according to Wall Street Journal's translation of the comments in Bild, another German magazine. "You were very unfair to the U.S.A. It isn't mutual. How many Chevrolets do you see in Germany? Not many, maybe none, you don't see anything at all over there. It's a one-way street," he added.