Tag Archives:
luxury vehicles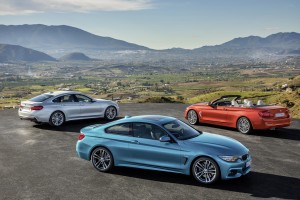 It's that time of the year again when BMW gives its range of luxury vehicles a little refresh and update. This time, it's for the 4-Series, which included the 4-Series, the 4-Series convertible, the 4-Series Gran Coupe, and the high-performance M4 and M4 convertible.
The changes will be introduced for the upcoming 4-Series to be released next year. Don't expect the changes to be drastic, though, because they are nothing but cosmetic updates. These changes follow the same path trudged on by the 3-Series.
1. Exterior
From the outside, the changes are quote noticeable, especially if you are looking at those new LED headlights and foglights. There's also the revised bumpers that give more credence to new available colors such as Snapper Rocks Blue and Sunset Orange.
2. Interior
Inside, the changes will depend on the trim you will purchase. The updates, we're sure, are minimal, though the higher-end trim models may receive a bulk of the upgrades. On the instrument panel, you'll find double stitching, which appears to be standard across the range. The infotainment system's menu has also been revised.
3. Powertrain
There is no confirmation yet about the powertrains that will be made available in the United States. Don't expect any major change, though, because BMW has just added new engines to the 4-Series for the 2017 model-year.
This means we can expect to see a turbocharged 2.0-liter inline-4 in the base 430i. This can produce 248 horsepower. Next on the line is the turbocharged 3,0-liter inline-6 that can produce 320 horsepower. The option falls between a six-speed manual or an eight-speed automatic transmission. You may also choose between an all-wheel or a four-wheel drive.
4. Rivals
In terms of competition, the luxury M4 will go head-to-head with the Cadillac ATS-V Coupe and the Mercedes-AMG C63 Coupe.
5. Pricing
There are no details about the pricing yet, but speculations suggest that the 4-Series could go up as high as $43,145.