Tag Archives:
mahindra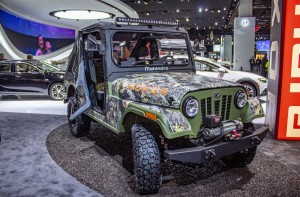 Mahindra typically makes trucks and utility vehicles but ever since it streamlined into passenger vehicles, we had a feeling it's only a matter of time before we see an off-road passenger truck that doesn't break the bank. And we're right. The 2019 Mahindra Roxor is exactly what we envisioned Mahindra will one day release—a tough and reliable off-roader that's cheaper than a lot of compact sedans in the market.
Old-School Exterior
The boxy Mahindra Roxor, which is offered in 900 different color combinations, looked like it was carved out of military vehicles used in the second world war. At the front, there are two headlights with a flat, five-slat grille sandwiched in between. The Mahindra logo is positioned above the grille. The bumper is made of pure steel.
There's not much to say about the profile, but the rear is as simple as it can get. It has a spare tire that's attached to a tailgate that opens sideways. The tail lamp only has the brake lights and the reverse light. The bumper, much like the one in front, is made of steel and has hooks for towing.
Basic Interior
If you're here looking for the latest infotainment system and touchscreen display, you're out of luck. The Roxor is functional but it is not luxurious. It doesn't even have doors! Instead, you'll find two capable seats for the driver and the passenger, a three-spoke steering wheel, a large tachometer, a switch for the headlights, and a grab handle for the passenger. Yes, that's about it.
Competent Engine
The Mahindra Roxor has a 2.5-liter four-cylinder engine that's paired with a five-speed manual transmission. It produces 62 horsepower and 144 pound-feet of torque. It has a top speed of 55 mph. Since this is an off-roader, it can tow up to 3,490 pounds while the payload capacity is at 349 pounds.
The Roxor is priced at $16,000 but adding all options and accessories will set you back by $20,000.