Tag Archives:
Maserati Kubang concept
Heavily anticipated new Maserati Levante is going to be a "Latin blend" of fashion, a blend of what else but the amazing BMW X6 and the luxurious Porsche Cayenne. Albeit originally planned to built in a Chrysler US factory in Detroit, the muscularly styled SUV is now expected to be produced in Italy due to the strong and growing demand for Jeep products and hence a need for a stronger factory to support its production. Along with what is said about the new Maserati Levante having mixed influences from the Porsche Cayenne and BMW X6, the 2011 Maserati Kubang concept could also provide a clue for the new SUV's visual character. However, this is just a clue not the actual styling! The key to what the new Maserati actually is road-based dynamics, deft athletic styling, room for five and a plush cabin.
What powers the Maserati's luxury sports SUV is the company's new twin turbocharged 3.0 liter petrol V6 engine generating 410 brake horsepower and a twin turbocharged 3.8 liter V8 producing a massive 530 brake horsepower. With twin turbos, direct injection, variable valve timing and an intercooler for each turbo, Levante's would be a fully modern mill. A 271 bhp 3.0 liter V6 turbodiesel will be the key powerplant for Europe. All engine options will be linked to an eight speed automatic transmission making the on road dynamics of the SUV a delight to experience. Along with prancing horsepower, amazing transmission, a version of the 'Q4' all wheel drive system is adapted in the new Levante from its application in the new Ghilbi and Quattroporte models from the firm.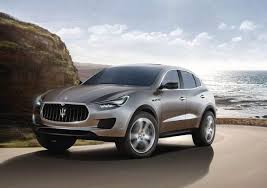 This all wheel drive system which already makes the Ghilbi a horse with some real giddy-up, will be modified to be used in the Maserati's sports ute for its dual purpose role for the all new Levante is expected to follow the footsteps of sister brand Jeep's on its expertise in rough terrain capabilities. Simply means that the levanter will be equally good an off-roader as it's going to be an amazing on-road luxury ute. While the structure for Levante will draw on Quattroporte and Ghilbi, its electronics will come from Chrysler and Jeep. Since the Levante gets part of its powertrain and outfit from Ghilbi and Quattroporte, it won't be surprising if the luxurious yet athletic SUV contains a high level of weight-saving aluminum in its body and suspension.
Maserati boss Herald Wester says the Levante is likely to be Italian built although not at the new Grugliasco plant which is home to the Ghilbi and Quattroporte since the beast is way too big for the body-framing equipment and paint plant to handle. The very fact that Maserati's new SUV is somewhat a blend of Cayenne and BMW X6 makes it a worthy opponent for the two. X5 is also a sports ute that stands against the Levante. With its defined looks that come from the competitors and its sashaying drive that comes with the tag "Maserati", this SUV is one to look forward to!