Tag Archives:
Maybach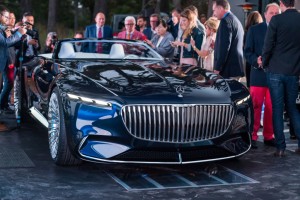 If there was any one reason to visit the prestigious and exclusive Monterey Car Week in California, this was it—the Vision Mercedes-Maybach 6 Cabriolet.
When you first look at it, you'll probably think about a shorter version of the Vision Mercedes-Maybach revealed during the Pebble Beach Show last year. And yet, for the life of us, we know there is so much more about this year's version. And we were not wrong.
On the outside, the Vision Mercedes-Maybach 6 Cabriolet looks like a Riva speedboat, thanks to its angular rear end that seems to just end without so much as a peepshow of a trunk. Some said it even looks like a pen; a very exclusive and expensive one at that. What's bothering us is the fact that the Vision Mercedes-Maybach 6 Cabriolet is 5.7 meters in length and 2.1 meters in width and yet, somehow, Mercedes just find enough time to put in two seats there. That's a lot of excess space, if you ask us, but there is a method to this madness, of course.
Whatever space it might have for more passengers, it has to give up for the massive center-locking 24-inch wheels and four electric motors that are powered by an underfloor battery pack. It can power up to 740bhp with its four-wheel drive system. The electric motors are powerful enough to go from 0 to 62 mph in sub-four, and the battery pack is good for a range of 310 miles.
Maybe you're excited about the headlights or the grille, but the true luxury astounds you once the white fabric roof with interwoven rose gold threads reveal what's inside: crystal white nappa leather, a full-width digital display, and illuminated buttons stitched into the seats. The center tunnel looks like it's floating and transparent (blue fiber optic lights show the car's energy flow).
This is a concept, or a vision, for now, but we do hope Mercedes engineers would put its heads together and just turn this into a production car.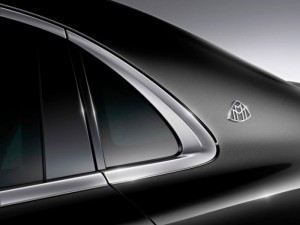 We might have dreamed about it until the day came. It was quite hard to imagine that the luxury SUVs have finally arrived. The three-pointed star marque has once again hinted that it might join the ultra elite group of carmakers with a Mercedes-Maybach SUV.
Merc is the latest in the long line of luxury carmakers that bit into the trend. Bentley has the Bentayga. Rolls Royce has the Project Cullinan. Lamborghini has the Urus by 2018. Aston Martin has a plan based on the DBX concept.
However, a Merc official said that although Mercedes is willing and even able to build a luxury SUV, it cannot be done on the current platform. So, if ever Merc does build a luxury SUV, it would be on the next generation platform.
This makes sense, of course, since Maybach's release, which was based on a completely different portfolio than the previous version, has been widely successful in places like China.
In China, the automaker sold more of the new long-wheelbase Mercedes-Maybach S-Class in a month than it was able to do so during the old Maybach's "best year." This renaissance was the push Merc needed in order to plan ahead again.
An SUV based on this current lineup is a wise decision, especially because the SUV has been slowly catering to Merc drivers as well. Since bringing back the M-Class in 1997, the SUV segment has been successful.
Ola Källenius, a Merc board member, said there is an unbroken trend in SUV because people love the high seats, sporty image and all-around usefulness for outdoor adventures. He believes the SUV trend will continue in years to come.
In Mercedes, 30 to 40 percent of the portfolio are SUVs, which Källenius said all carry the Mercedes imaging, meaning there's no actual conflict in creating a Maybach SUV.