Tag Archives:
mazda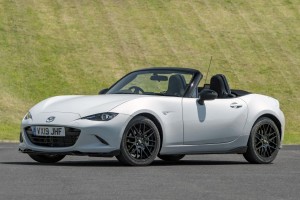 Mazda UK revealed two personalization and design packages called the Cup Pack and the Design Pack for its MX-5–easily the world's best-selling two-seater roadster.
The entry-level Cup Pack is priced at £1,995 while the top-of-the-range Design Pack will cost owners £4,675.
The Cup Pack will allow MX-5 owners to lower the suspension of the car based on a kit from Eibach. It will also have a stainless-steel exhaust system from Bastuck, and 17-inch BBS wheels. The new rim size, however, will only be available for the 2.0-liter, 181bhp model.
The Design Pack, which is one-fifth of the price of the MX-5, will bring all the styling upgrades of the Cup Pack but with the additional body kit to complement the new BBS wheels.
There are more changes inside the cabin, though. The trim materials have been upgraded with Alcantara leather on the gear level, dashboard, hand brake, and door panels. Some more upgrades are scattered all over the car's interior.
The Cup and Design Packs are available for any of the current generation Mk4 MX-5 and can be fitted by any authorized Mazda dealership. The personalization packages will allow for the further customization of the items, depending on the individuals. Mazda will also have more options available for the car.
The Japanese automaker has already sold more than one million MX-5s worldwide, 134,000 of which are owned by the British marker. The MX-5 was first released in the United Kingdom in 1990.
The release of the styling packages comes just after the launch of 30th Anniversary Edition MX-5. There are only 3,000 units of the Special Edition manufactured, but 550 of those will be sold in the UK—Mazda MX-5's biggest market. Out of the 550 units, 370 will be soft-top convertibles while 180 will be hard-top RF models.