Tag Archives:
mercedes-benz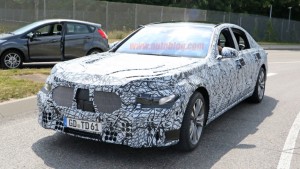 We've got spy shots of the new 2020 Mercedes-Benz S-Class and it looks like there will be a major redesign of its exterior and the interior. The German automaker said that sales of its flagship model, which is a big seller in China, Germany, South Korea and the United States, increased by 27.5 percent to 43,106 units for the first half of this year.
Exterior
The spy shots reveal a flattering temporary grille that's reworked along with the front camera and Intelligent Drive sensors. There are also new bubble-shaped multibeam LED front headlights that flank the grille bits, as well as a beefier hood above it. The door handles appear longer than this year's model. It might even follow in the footsteps of the Tesla Model S with the handles flushed inside the door.
At the back, the redesigned LED lights are hidden under the temporary units, though they are sleeker, wider, and wrapped around the upper rear panels.
Interior
Inside, there's a big panoramic roof that lets the light inside. That dashboard has a long, one-panel flat screen while a second screen appears to be in the vertical orientation in the center console. The spy shots showed everything covered up but judging from the space, there could be enough for a 12-inch screen or something even larger.
Above that second screen is a new venting system with four rectangular vents. This replaced the rounded ones used in the last model.
Powertrain
The spy shots have yet to tell which engine is being used, but we're sure that the car will come with either an inline-six or twin-turbo V-8 engine with electrification that will boost power and fuel economy. There might be a plug-in in the future and an all-electric range of over 30 miles should be expected as well.
More details about the 2020 Mercedes-Benz S-Class are expected to arrive in the coming weeks.