Tag Archives:
mercedes-benz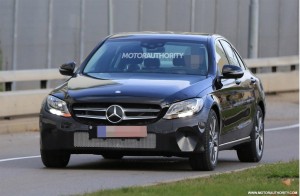 German company Mercedes-Benz is working to update its C-Class. In fact, a prototype has been spotted being tested at Merc's headquarters in Germany.
Based on the spy photos, there will be minor tweaks on the exterior of this small design. And though there are no actual photos of the car's interior, previous rumors point out to a host of new technology inside.
It Resembles the E-Class
You can expect that the Mercedes-Benz C-Class will be fitted with new bumpers. There will also be modifications made to the internals of the lights. You'll have to look closely if you want to find it. Previously, test photos already showed that the headlights of the new C-Class will closely resemble those found on the newest E-Class.
Switch to Digital Instrument is Possible
Although there are no shots of the C-Class' interior, but there are expectations that it will be packed with the digital instrument cluster from the E-Class and S-Class models. This has been seen before anyway, so it's not entirely impossible.
Yet, it's also possible too that the updated C-Class will simply have an option to have the digital instrument cluster on its panel. This is what Audi did with its own digital instrument cluster for entry-level models.
Powertrain will be Similar to Merc's Next-gen Engines
There is no word yet on what we can find under the hood of the new C-Class, although it will likely adopt Mercedes' next-generation engines, which are slates to debut in the 2018 S-Class.
What we do know for now is that the updated C-Class will have numerous efficiency improvements that include a single electric motor to replace the current starter motor and alternator. The change also aims to improve the power of the new C-Class by boosting its performance on the road.
The new engines will reportedly have a modular design. Also, instead of the current V-6 design used by Mercedes-Benz, the 6-cylinder units are depending to an inline design.
This update is nothing spectacular drivetrain- and power-wise. The C-Class simply needs to fresh things up since it has reached the midway point in its life cycle.
The car was introduced as a 2015 model-year. Based on calculations, Mercedes-Benz will be releasing the upgraded C-Class as a 2019 model.