Tag Archives:
mercedes
Mercedes-Benz officially revealed that it is scheduled to unveil six vehicles at the Auto Guangzhou in China on November 22, 2019. Highlighting the bunch is the much-anticipated Mercedes-Maybach GLS ultra-luxury sport utility vehicle.
According to the Daimler Global Media Site, the company will be showcasing six vehicles in the event. The models include the new Mercedes-Maybach SUV, the Mercedes-Benz GLB, Mercedes-Benz GLS, Mercedes-Benz Vision EQS, Denza X, and Mercedes-AMG A35 L.
It should be noted that the GLB, GLS and the EQS concept are no longer new to us, but their arrival in the show will signal their roll out in Chinese dealerships soon. However, what we will be seeing for the first time is the Mercedes-Maybach SUV, the Denza X, and the Mercedes-AMG A35 L.
Mercedes-Maybach GLS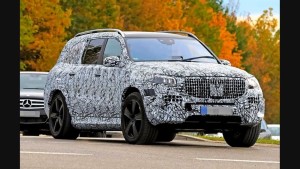 Basically, the Mercedes-Maybach SUV is based on the Mercedes-Benz GLS. The Mercedes-Maybach variant stands out from the regular Mercedes-Benz model though with its more spacious interior, more advanced tech, more comfort features, and Maybach accessories plus badges in and out. The auto is rumored to get a 4.0-liter V8 with a mild-hybrid setup that should allow it to produce at least 483 hp similar to the Mercedes-Benz GLE 580.
Denza X
Denza X is an electric vehicle that comes from the partnership between Daimler and BYD. The EV was developed by the China Advance Design Center. We don't know yet how much Mercedes is present in the vehicle since information about it is very scarce as of now, but its makers confirmed that it will come with a plug-in hybrid version and all-electric-powered variant.
Mercedes-AMG A35 L
The Mercedes-AMG A35 L is another China-exclusive model. In a nutshell, everything about it is all too similar to the Mercedes-AMG A35 but with some tweaks in the wheelbase so it could offer more space at the back for Chinese owners who prefer to be chauffeured most of the time. Powering the car is a 2.0-liter turbo four-cylinder engine with 306 hp.