Tag Archives:
mexico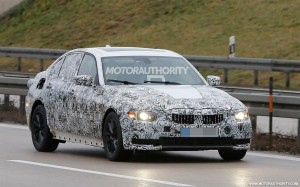 Four years ago, there was a rumor that BMW plans to make its 3-Series sedans in Mexico. Not much has been heard in the next years, until BMW finally confirmed it today.
On Thursday, BMW started constructing a factory in the Mexican state of San Luis Potosi, which will be the home of the BMW 3-Series sedans in the next years. Based on a report, it will begin rolling off cars by 2019, reports added.
The 3-Series sedans to be manufactured in the plant will be next-generation models, which were spotted testing its prototypes. These are also due to be revealed sometime next year. The cars built in the San Luis Potosi plant will be exported to the United States.
But why Mexico?
Mexico is an ideal location for car manufacturers because of its low wages and free trade agreements with the United States and Canada. Some Asian and South American countries also enjoy FTA with Mexico.
Moving its production and manufacturing plant in Mexico will help BMW answer to the demand, speed up delivery, and hedge against currency fluctuations. In the long run, BMW will be saving up in production costs, as well as in export fees and taxes. Whether this would reflect on the cars' prices remains to be seen.
In fact, such is the attraction of Mexico that some of BMW's competitors are also planning to use Mexico as a manufacturing hub. Audi will build its next-generation Q5 in Mexico later this year and Infiniti and Mercedes-Benz both confirmed plans to build some compact cars there as well.
Initially, BMW plans to have its Mexico plant produce some 150,000 units. It will be employing about 1,500 staff for the factory. The new Mexico plant will join BMW's growing presence in the Americas, including the plants in Spartanburg, South Carolina, which specializes in SUVs. There are also two smaller facilities in Brazil.