Tag Archives:
miata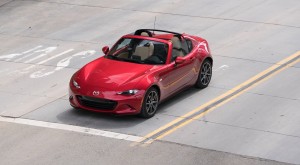 The 30th anniversary edition of the Mazda MX-5 Miata needs only four hours to completely sold out. The special edition roadster was unveiled at the 2019 Chicago Auto Show and we immediately saw why this would be such a hit. It's fitted with a few extra features that make this iconic car even more covetable. All of its 500 units available were sold out in that period!
This wasn't the first time a special edition MX-5 Miata sold out in hours or even minutes. Four hours was, in fact, too long when compared to 2014 when the 25th anniversary MX-5 sold out in just 10 minutes. Of course, the 25th anniversary roadster was available only in 100 units while the 30th anniversary edition needed to sell 500 units in the United States. About 2,500 units of the anniversary edition will be made available outside the US but we expect that to sell out quickly, too.
The reason why people are rushing to get their hands on this special edition Miata is not just because it's an anniversary edition (though that plays into the equation). The new Miata comes with a range of exclusive features that might not be available in any of Mazda's models in the future.
The body is finished in Racing Orange, which according to Mazda is a color that "evokes the breaking dawn of an exciting new day." To complement this orange color, the Miata is fitted with black-painted multi-spoke wheels and orange brake calipers.
Inside, the Miata is fitted with Recaro sports seats instead of the usual units. The seats have the "30th Anniversary" badge with a serial number for all 500 cars. There's also a Bose sound system with nine speakers while Apple CarPlay and Android Auto are standard. Rounding off the cabin's new design are orange accents on the seats, the door panels, the dashboard, and the gear shift lever.
For the performance, the Miata is upgraded with Blistein dampers on manual transmission models, Brembo brakes out front, and Nissin brakes at the back. It comes with the same 2.0-liter four-cylinder engine that makes 155 horses and 148 pound-feet of torque.