Tag Archives:
Micra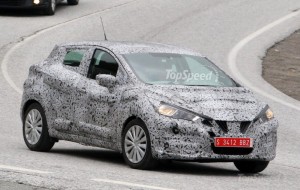 Nissan is already on the testing phase for its fifth generation Micra, which should be due sometime next year. It might be under heavy camouflage and padding, but it should receive some dramatic design changes from the current model.
Sources are saying that the new Nissan Micra will be using the CMF B platform, which was developed within the Renault-Nissan alliance—also to be used on the next generation Nissan Juke. The new Micra will borrow some design cues from the Nissan Pulsar and the Nissan Sway concept that we saw at last year's Geneva Motor Show.
Based on the spy shots, the new Micra will be longer and the rear hatch has a new shape with more angle on it than the current model. The headlights will probably be longer, too, and less bug-eyed than before. It extends further into the front grille, which looks smaller. The front fascia, front grille and fog lights will likely be changed too.
We will be expecting the body itself to be wider below the waistline. Some changes will be made on the side skirts too. Overall, the new Micra should have a sportier look than its predecessor.
Inside, not much was photographed. The current Micra already has a pretty upscale interior for an economy car, so Nissan might not change so much in this department. There should be the same basic design—functional—with the basic center console and majority of the controls placed on the center stack.
The new Micra should be offering a range of three- or four-cylinder gasoline engines. The current model has a 1.2-liter engine that manages 78 horsepower for the base option and 97 horsepower for the high-end unit.
Currently, the Micra starts out at £7,995 for the base model. It climbs all the way to £15,115 for the range-topping Tekna trim with a 1.2-liter and a CVT transmission. The new Micra should be priced somewhere between $11,499 and $21,739.