Tag Archives:
Millecavalli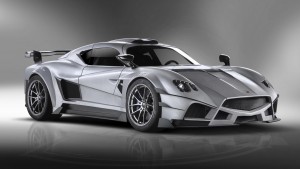 Italy may be best known as the land of amazing pasta, pizza and architecture for us mere mortals. But for the ultra-rich, Italy is home to the world's most powerful supercars—the Ferrari, Lamborghini, Maserati and the Pagani. Majority of the best cars out there carry the Italian flag in the top right corner.
And as if Italy has not outdone itself again and again in the matter of producing the greatest cars ever, a company called Mazzanti (very much Italian, right?) just produced the Millecavalli—a 1,000bhp hypercar that will apparently compete with the great LaFerrari in terms of horsepower offering, according to Top Gear.
The Millecavalli is packing a 7.2-liter twin-turbo V8 engine, which can produce 1,000bhp and 885 lb. ft. of torque. That's certainly a lot more than Ferrari's offering of 950bhp and 664 lb. ft. of torque through its V12-engined hybrid hypercar.
The Mazzanti Millecavalli weighs at only 1,300 kg, which would certainly boost its road performance using a six-speed sequential gearbox. That said, Mazzanti's supercar should go 0-60mph in just 2.7 seconds. It has a top speed of 250mph.
Surely, supercar enthusiasts are scrutinizing the company's every move. Mazzanti was a creation of Luca Mazzanti and classic car restorer Walter Faralli.
The Millecavalli has a lot going on—ripples and creases that affect the car's aerodynamics. There's also a two-tier spoiler, a roof snorkel, and suicide swan doors.
There are no details yet for the interior, although we're expecting to see some elegant and sporty details on the seats, steering wheel, and even the pedals. If you're curious, you can take a look at it since it's currently on display at the Turin Auto Show.
Mazzanti said there will only be 25 units of the Millecavalli. As for the price? We don't know that yet, but expect really astonishing, fall-off-your-seat price tag for this supercar.