Tag Archives:
Mini 3 door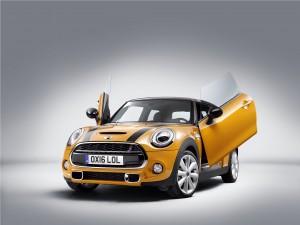 As if the MINI isn't so functional and cute enough to fit in tight spaces, the brand made owning it even more practical. We all know how infuriating it can to not fit in tight parking spaces where we can't even open the doors to get in our out.
MINI models are going forward by offering scissor doors as optional equipment. It will initially be offered as an option for the Mini 3 door, Mini Paceman and Mini Convertible. But next year, the option will also be offered to the Mini 5 door, six-door Clubman and Mini Countryman.
According to a press release from BMW Group's MINI, the scissor doors are based on the body concept where the doors will open vertically. This is the perfect solution to increase parking space problems, especially in multi-storey car parks.
The doors of the MINI are electrohydraulically activated, and will reduce parking space needs by as much as 30 percent from 2,681 down to 1,930 millimeters. The Mini 3, for example, has a width of 1,727 millimeters, so it should fit into even tight parking spaces. But with the scissor doors, the entry and exit to and from the car will be made more convenient.
The feature is quite standard with the ability to use a remote control to open and close the doors. It can also come with "Comfort Access" for additional premium. This will allow the door to be operated by a button on the door handle. Future plans include allowing the scissor doors to be controlled by a smartphone application.
The doors will also come packed with a technology called Pyrotechnic Emergency Exit (PEE), which will blast the doors off the car in case of an emergency or accident. This will ensure rescuers to access the passengers immediately.
The optional scissor doors will be available for an additional $2,230.