Tag Archives:
model 3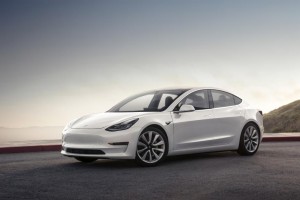 Tesla just released the pricing details for its Model 3 as the car goes on sale in the United Kingdom. Thanks to the government's £3,500 ($4,564) plug-in car grant, the Model 3 with the Standard Range Plus rear-wheel-drive car will only cost £38,900 ($50,727).
If you want a faster Model 3 version, which is aptly named the Model 3 Performance, you need to shell out £56,900 ($74,249). The Performance version can bring the car from 0 to 62 mph in just 3.2 seconds. But if longer mile range is more of your priority, you can get the Long Range AWD, a trim level that sits between the two versions. With a selling price of £47,900 ($62,524), the Long Range AWD can get you 348 miles as tested under the WLTP standards.
Although the entry-level Model 3 is more expensive than we have anticipated, it comes with a slew of special features that include an Autopilot system that can accelerate, brake, and steer the car in the right lane. It can also be set up to overtake maneuvers on motorways and dual-carriageways.
For an extra £4,900 ($6,394), Tesla can also equip the Model 3 with full self-driving capability. This will give the car the ability to drive automatically in the city and respond to traffic lights. It is worth taking note, however, that choosing the upgrade after the car has already been delivered will cost £6,800 ($8,867).
Inside, the Model 3 is fitted with the most basic of equipment—a steering wheel and a 15-inch touchscreen that faces the driver. The screen eliminates the need for physical display and control functions.
Buyers can choose from five colors. If you choose solid black, you won't have to pay extra. Midnight Silver and Deep Blue will go for an extra £950 ($1,239) while the Multi-Coat Red and Pearl White will cost £1,900 ($2,478).