Tag Archives:
mustang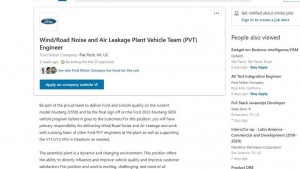 A new job posting by Ford reveals the fate of its next-generation Mustang. It says that the S650 will be launched in 2022 as a 2023 model year car.
The American automaker's ad can still be found on LinkedIn. It says that they are looking to hire a "Wind/Road Noise and Air Leakage Plant Vehicle Team (PVT) Engineer". The engineer will be stationed at the Flat Rock plant of the company in Michigan.
The new hire will be tasked with overseeing the quality of the current-generation Ford Mustang (S550). The most exciting part though is where it was mentioned in the post that the person will also be responsible for delivering the "final sign off on the Ford 2023 Mustang S650 vehicle program before it goes to the customers."
Furthermore, the ad said that among the other tasks of the engineer include the "On-site launch lead for Wind/Road Noise and Air Leakage attributes when S650 launches in 2022 as a 2023MY".
It only means that the supposed launch of the seventh-gen Ford Mustang will not proceed this year. Therefore, we will have to wait two more years until we see the much-anticipated Pony car.
The Ford Mustang remained as America's best-selling sports car in 2019. A total of 72,489 units of the vehicle were delivered to customers in that period. The auto has held such distinction for the fifth consecutive year. Despite its position in the market, it should be noted that the figures were 4.4 percent less compared to the sales of the unit in 2018.