Tag Archives:
National Auto Sport Association Southern Region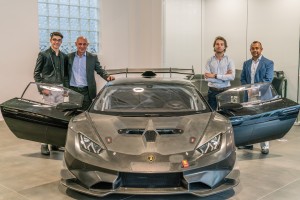 The new Lamborghini Huracan Super Trofeo Evo just reached the U.S. soil. The recipient of the supercar was a 14-year old high school student in California.
Last week, the teenager Steven Aghakhani welcomed the delivery of the Lambo worth $295,000. It came as a surprise to him by his father at Lamborghini Beverly Hills. At first, it may sound like a very rich father spoiling his kid. However, for those who are not familiar with Aghakhani, it should be noted that he deserves it.
According to Steven Racing, Aghakhani happens to be the National Auto Sport Association Southern Region champion. It was his first ever championship and he did it in his first year in the racing organization.
The teen has been racing since he was seven. He started at go-karts during that period until he reached the NASA Pro Series Southern California Regional Championship.
In the 2018 season, Aghakhani will be competing using America's first Huracan Super Trofeo Evo under Steven Racing. He will be taking the supercar against his rivals in spring.
The Huracan Super Trofeo Evo was constructed by Lamborghini Squadra Corse. The development of its chassis was from Dallara Engineering. The heavy use carbon fiber helped improve the auto's aerodynamics and downforce. Along with the upgrades include new safety features like its roof hatch that provides another exit for the driver during an accident.
The Huracan Super Trofeo Evo is equipped with a 5.2-liter V10 engine. The one to be used by Aghakhani in racing has been tuned to deliver 620 hp and 413 lb-ft of torque. The power is distributed by an X-Trac six-speed sequential transmission. It also comes with Ohlins dampers and MOTEC electrical components.
Below is the official video of the new Lamborghini Huracan Super Trofeo Evo:
Here are some photos of Aghakhani as he received the new Lamborghini Huracan Super Trofeo Evo: