Tag Archives:
new BMW X4
If we go by the claims made by BMW, their 2015 BMW X4 is a stupendous vehicle with the ability to elevate ride height along with the all wheel drive capability of a SUV, which has been enhanced using coupe striking metal sheet. But if we go by the words of other reviewers, it is being said that the design for X4 has been lifted directly from X3, we are not saying that it's a bad thing because with this design, the all new X4 will come with attractive dashboard, premium quality material upholstery and comfortable driving positions to make it a hit among the drivers. There are also several other features that have been added to X4 like iDrive system, Google's point of interest tool for navigation and traffic information, redundant controlling with buttons and knobs for access with a touch pad mounted on the knobs that allows users to make note of phone numbers, contact details and destinations while driving. Additional features like premium sound system with 600 watts 16 speakers, panoramic sunroof and BMW navigation app makes its cabin more enhanced and luxurious.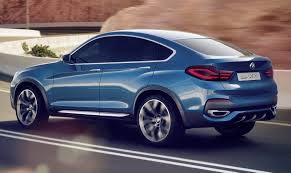 To make it even more  delectable for the BMW lovers, the car maker is offering its latest vehicle 2015 BMW X4 in two engine choices, wherein the first one is fitted with  a standard motor under the hood with specification od xDrive28i and a turbocharged 2.0 liter four cylinder engine that can generate up to 240 hp and 260 lb-ft torque. Those who wish to have more output and looking for a more performance oriented vehicle there second engine choice of xDrive35i of X4 packed of 3.0ltr turbocharged engine with the inline six cylinder capacity of producing up to 300 hp and 300 lb-ft torque is an ideal one. The performance oriented 2015 BMW X4 is available with automatic transmission of eight speed setting that ensure quick, safe and smooth ride, all wheel drive feature comes as a standard in all trim levels. The steering system for X4 is directly variable, which offers standard performance control to maintain torque split from rear to make the response sportier. You can also go for the optional Dynamic Damper Control feature that helps in tightening adaptive shocks to ensure smooth running and also reducing the chances of body roll.
The xDrive28i 2015 BMW X4 is the standard version which will be available in the market at first will have four turbo cylinder motor and leatherette upholstery complimented by 12 speaker audio system with HD quality, AUV and USB support. Automatic climate control, Bluetooth, automatic windshield wiper, power liftgate, headlight auto on and off of Xenon, fog lights with LED, 18 inch alloy wheels, ambiance lighting feature, universal garage door opener, full power accessories and auto dimming mirrors to make it a worth it purchase.
You can also have optional features like metal bumper, imitation under body guards, satin aluminum cladding, unique leather upholstery and 19 inch trim strip wheel option to get it customized. M sport trim level for X4 will come with aggressive body kit, sporty front seat, anthracite headliner sport tuned steering and suspension and  a lot more. The expected price for 2015 BMW X4 can be anywhere near $50,000. So start making your savings now.
BMW, an eminent name in the category of luxury cars is always busy launching new models. The company's designing team understands the market needs and comes out with highly elegant models every now and then. BMWs reputation as the elite car manufacturer facilitates in launching new cars with full poise.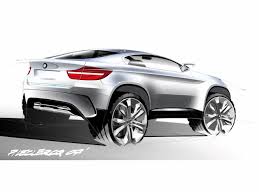 2014 will be a big year and with numerous number of car launch in the markets, BMW is sure to sweep all hearts. BMW is going to unveil two new high performance SUVs in 2014. Let us have a quick review as to what is there on the platter.
The first SUV will be revealed at the New York Auto Show this April. It is the BMW X4 production model. It has a super stylish design with a coupé-like sloping roof. It is one of the concept SUVs launched by BMW. Here is a small review of the X4.
Tech Features
BMW X4 will be equipped with:
Engine- This all-new BMW X4 will be available in an array of engines suiting the requirements of different markets across the globe.

X4 xDrive28i- turbocharged, 240-hp, 2.0-liter four
X4 xDrive35i- turbocharged 300-hp, 3.0-liter inline-six
Four and six-cylinder petrol and diesel engines
Eight-speed automatic transmission
Variable sports steering system
Stop-start systems
Brake-energy recuperation
Enhanced aerodynamics
110.6-inch wheelbase
Length 183.0
After the success of BMW previously launched SUVs, the management and designers have high hopes with the X4 model. The rest of its interior features will be undraped with its launch but it is sure to inherit the luxuries of a BMW make.
Besides X4, the next in the league of luxury SUVs is the upcoming model X6. It is a midsize SUV. The first look of this will be previewed at the 2014 Moscow motor show in the month of August. This one is the second-generation X6 with its first-generation already been launched in the year 2008. The designers claim the X6 2014 model to be sportier with an all-new improved athletic structure.
BMW X6, complete with all its features will be launched later this year. As per the reviewers, X6 has weight and height of an SUV but the interior are of a sporty car.
Technical Specifications:
The model will be equipped with:
Engine- Twin-turbo 4.4-litre V8 engine (This might differ for different models of X6)
Power and torque has been increased from the current 547bhp and 69.4kgm
Eight-speed automatic transmission
EPA-estimated 17/24 mpg city/highway
As per those who have taken a test drive of X6, it is a car which offers controlled handling and has a set of powerful brakes. Also, it has advance emission systems.
Interior
BMW X6 is loaded with all the lavish features like:
Spacious seats
Cargo space is typical for the class
Advance infotainment system
Moon roof
Front and rear parking sensors
Bluetooth
10-speaker sound system
Head-up display
Rear-seat entertainment system
Adaptive cruise control
X6 is all in all a luxury SUV to look forward to. BMW is known to deliver outlandish range of cars and these two SUVs are much awaited.