Tag Archives:
new chevrolet traverse
Large families prefer large crossover and that is not rocket science. The obvious attraction to large crossovers is because they offer plenty of room for the passengers and their belongings and along with that the availability of all wheel drive to get them confidently to their destinations in foul weather conditions. The 2014 Chevy Traverse stands as a sensible choice as it is a spacious, well performing family vehicle that is so not a minivan. Essentially a vehicle that is designed and engineered especially for those who found themselves bewildered at the lack of large family vehicles, 2014 Chevrolet Traverse, while misses on some charm, still manages to grab attention with its looks, features, availability of space comfort and safety.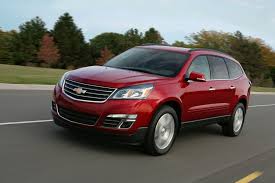 The design of 2014 Chevrolet Traverse has seen a little change since it was first introduced in 2009. Last year the tall station wagon underwent mini touch ups in the front and rear while it still stands miles away from the GM termed "an athletic new exterior design". The façade is refreshed in the new Chevrolet Traverse but what is more striking are the Camaro influence tail lamps which break though a factory-farm of same-as crossover design. On the inside, the Traverse is nothing exciting, but it is extremely functional. With last year's freshening up the SUV sports new wood and silver accents, some contrast stitching and ambient lighting. Other add-ons from the last year also include the reconfigured climate control and more soft-touch materials.
Although the 2014 Chevrolet Traverse isn't as quick or as agile as a sports utility vehicle since it isn't, but it is quick enough for a family vehicle. At about a massive 5,000 pounds the Chevy Traverse is one heavy vehicle and it does little from behind the wheel to mask that. Running on a smooth 3.6 liter direct injection V6 engine the monster produces 288 horsepower and 270 pond feet of twist. Engineered for more confident passing power and quicker shifts, the 2014 Chevrolet Traverse still is a combination that needs to work hard up highway grades or from a standing start. That aid, the beast can tow up to 5,200 pounds which is impressive and highly functional. The vehicle comes with a choice in the front wheel drive or all wheel drive configurations, however, the AWD versions are a little more sluggish.
For those who bid their goodbyes to their minivans and decided not to bow down to that image again, the Chevrolet Traverse still remains one of the most spacious, passenger friendly vehicles on the market. Since the primary mission of the Traverse is people moving the GM has made the most of the seating space in the vehicle. The safety features in the Traverse impress greatly. But the exterior of the Traverse disappoints with a blander look than earlier. Moreover, the great market of large crossovers offer SUVs like the 2014 Ford Flex, the Mazda CX-9 and though a little bit smaller but excellent, the Hyundai Santa Fe. Still, with its handsome styling, huge cabin and impressive day-to-day functionality, the 2014 Chevrolet Traverse stands firm in its position in the current population of the family-friendly crossovers.
The Chevrolet Traverse is a ride for eight passengers incorporating interiors of a van and averting the sham tag of a minivan with uplifted styling of an SUV. It spans to a width of 78.5 inches, 203.7 inches in length and 69.9 inches in height. The front is arranges freshly in a slew of three, angular headlights and sharp tail lights reminding of Camaro with a dynamic look. The Traverse receives more adept handling than the oldies like Tahoe by a uni-body platform that it rides on. The Traverse is potential of towing a weight up to 5200 pounds if utilized properly.
The Traverse is a home to a 3.6 L V-6 engine that produces 281 horsepower and torque of 266 lb-ft while an alternate dual-exhaust variant boosts figures to 288 horsepower and  torque of 277 lb-ft. A six-speed automatic transmission supplies power to the front wheels while an optional All-wheel-drive configuration is available for enhancing traction over slippery roads. Fuel economy is computed standard as 17mpg in city and 24mpg on the highway for the front-wheel-drive model while the all-wheel-drive model furnishes 16mpg and 23mpg in city and on highway respectively.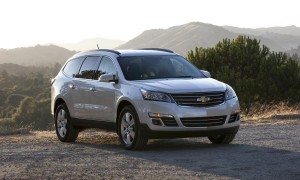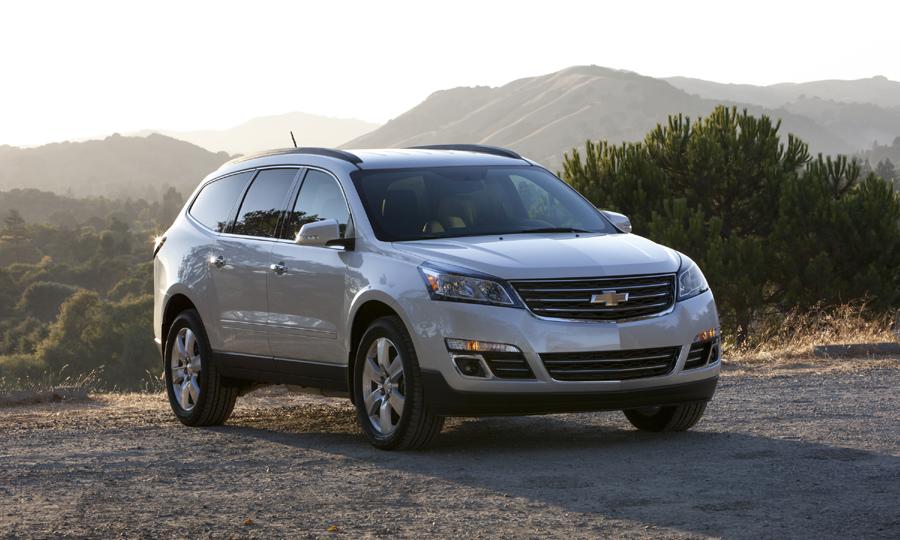 The Traverse is currently purchasable in LS, 1LT, 2LT AND LTZ trim levels. The LS offers basic features like keyless entry, power locks, power windows, A/C along with rear-view camera and a six speaker standard multimedia stereo system, cloth upholstery and 17 inches alloy wheels. The 1LT associates Bluetooth connectivity, climate control, power adjustable driver's seat, front collision warning, 18 inches alloys and mimic wood interiors. 2LT brings power lift gate, heated front seats, a ten speaker Bose USB stereo system and remote start. The LTZ comes with heated and cooled front seats, power-folding mirrors, leather upholstery, power adjustable passenger seats, an exterior fringe of chrome and 20 inches wheels.
The crossover offers a stinking rich feel due to its soft touch material on the dashboard and top ends of doors. The Traverse facilitates an accommodation for eight riders with three rows, providing options between bench chairs or captain's chairs in the second row. The Traverse brags of a cargo space for 24.4 ft3 whilst increasing it to 68.8 ft3 when the rear row is folded. Directed for the comforts of a family, the vehicle comes equipped with 12 cup-holders and a DVD entertainment system. LS, 1LT and 2LT have provision for Chevrolet's infotainment equipment system namely MyLink while it is customary on the LTZ. Mylink features a 6.5 inch touch screen for call receiving, media streaming and HD Radio as well as navigation.
All variants of Traverse accentuate dual front, full length side curtain and front side airbags for passenger safety besides Chevrolet's first front centre airbag.  Blind zone alert mechanism and Cross traffic alert system are available as options on LS, 1LT, 2LT while coming standard on the LTZ which utilizes RADAR to detect sport which may be out of the vision of the driver and renders audio or visual alarms to prevent collisions.
Sharing uni-body platform with Buick Enclave and GMC Acadia along with a high load carrying capacity of a van, Traverse is most likely to face competition from Dodge Journey, Honda Pilot, Ford Explorer and Toyota Highlander.