Tag Archives:
new gm suv
American automaker General Motors is known for shared pickup and SUV interiors and exterior stylings, but in the future, according to Chris Hilts, Creative Manager of Interior Design for the company, this will no longer being the case beginning with the 2014 model year. From this point on, new GM SUVs and pickup trucks will boast rather unique styles.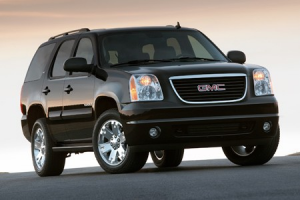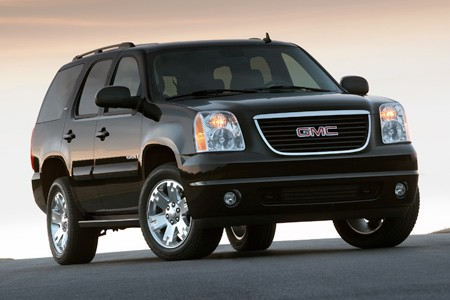 Impacted models will include such vehicles as the 2014 Chevy Silverado and 2014 GMC Sierra pickup trucks, as well SUVs like the Yukon, Cadillac Escalade, Suburban, and Tahoe, which all all due for redesigns. Particular edits will include unique consoles, instrument panels, materials, knobs, and more for each model.
So, how big of an impact will this really make? Well, for example, previously the Yukon and the Escalade shared rather similar door panels. However, it doesn't necessarily make a lot of sense to market similar materials to two different types of buyers and two different price ranges of vehicles. With different materials used for these models in the future, they will better cater to their particular drivers' needs and desires. In another example, while the Tahoe and Silverado have always shared some rather obvious design cues, they'll be completely unique vehicles in the future. That leaves a lot of room for some incredible improvements!
The changes are being put into place due to the wishes of General Motors fans. In clinics, the auto giant learned that buyers waned their vehicles to be more unique. New SUV owners desired their vehicles to feel more like conventional passenger vehicles, while truck owners stated rather specifically that they wanted a more "truck-like" interior.
Perhaps even more influential, however, is the fact that GM hopes to further differentiate its brands overall. To be specific, the company would like to make its luxury brand Cadillac stand out as providing a higher level of refinement, while also giving traditional American Chevy truck owners the experience they desire when stepping into their rugged, work-ready vehicles.
Let's focus for a moment on the 2014 Cadillac Escalade luxury SUV. The four-generation Escalade will be outfitted with a much cleaner style. It keeps its rather bold Cadillac grille, but it also receives a new headlight style and character line to give it a more refined aesthetic. It will feature an all-new glasshouse, with a blacked-out C-pillar that has a Cadillac emblem positioned near its base. Though specific styling cues for the premiere SUV's interior have yet to be released, we expect it to get a lot more luxurious!
Of course, the new Cadillac isn't the only vehicle that will be hitting showrooms looking significantly different. Be sure to stay tuned here with your knowledgeable ReviewItOnline.net team for the latest SUV news and updates. And, remember, we also have in-depth reviews of the latest new models to help you determine which new vehicle is right for you. Search a particular model, or simply browse to find one that perfectly suits your style!
General Motors might be trying its best to keep its new 2014 models under-wraps, but in the age of the internet, nothing stays secret for long. And, with the interesting new line-up GM is working on perfecting, it should come as no surprise that keen eyes have been on the watch to glean all of the juicy details.
For the 2014 model year, GM will be replacing the ever-popular Cadillac Escalade, the Chevrolet Tahoe, and the GMC Yukon full-size SUVs (along with several other SUVs). The new replacements for these vehicles were recently seen making a sneaky exit from the auto giant's testing grounds in Milford, Michigan. Reportedly, GM will spend around $331 million to renovate its assembly plant in Arlington, TX to accommodate for the new vehicles, and this expansion could also add production of the Chevrolet Avalanche and Cadillac Escalade EXT if they're brought back for a third generation. The plant will hire around 110 new employees to take on the work that will come along with these new developments.
Originally, General Motors planned to release replacements for these full-size family vehicles for the 2013 model year, but production was pushed off due to legal issues, though the company has been known to surpass deadlines before (such as early production of the GMT900 family of SUVs in 2006- just in time to avoid the 2008 financial crisis and increasing fuel costs).
According to spies in the auto industry, the new SUV test vehicles boast padded, black cladding on their grilles which look quite a bit like the grille of the current Ford Expedition. They also seem to keep their rear axle design and should prove formidable contenders as far as tow rating is concerned, which makes sense since they're based on GM's next generation of full-size pickups. We've also received word that the new, large vehicles could eventually receive a brand-new line-up of automatic V8 engines and could also get 8-speed automatic transmissions, though six-speed transmissions might be the only ones available when they are originally launched.
The 2014 GM SUV models seem to be standard wheelbase models and appear to retain their boxy looks, though several models seem to have received several stylish, streamlined elements to increase fuel economy ratings, including a rather recessed hatchback and a deep chin spoiler. From the small holes located in the bumper covers, we believe that there will also be some kind of radar parking sensors on the vehicles.
The stylish new SUVs are set to make their debuts at either the 2013 Chicago Auto Show in February or the North American International Auto Show in Detroit in January 2013, and production will begin at the Arlington plant in October 2013.
Want more updates on the latest auto happenings? Stay tuned here with reviewitonline.net (RIO), and be sure to scan the wealth of information available in our new car reviews. From luxury coupes to fuel-efficient family-haulers, we're your comprehensive source for all things auto.