Tag Archives:
new Hyundai SUV 2015
Every market follows a trend. Talk about clothes, shoes, jewelry, food and furniture. It is as if we wait for a new rage to emerge and take over so that there is sort of uniformity in the way things look. Since time immemorial, the trend of following a rage has been prevalent in our lives. That is the reason what we followed in school as a world apart from what struck us when we reached college. The interesting part about trends is that one trend in a specific stream has far reaching effects! It doesn't stay in one place or limited to one specific field! Which is why it isn't wrong to say that Hyundai is keeping up with the ever-increasing craze for SUVs with its new creation. What we do know about the upcoming Hyundai 2015 SUV is that it is definitely very, very close to what Duster looks like! And we are saying this only because we have seen the concept and we are not even depending upon any rumors. For sure, its size too is similar to Duster, too! Wait till we tell you something more about it and add fuel to your curiosity!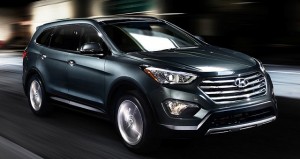 What do you think is the name of the upcoming Hyundai 2015 SUV? Well, you might safely guess it would be some thing like iX25 or the likes, but well, you are wrong for the company is going to steer clear of any of those names. It has decided to have a name that fits the conventions, something that isn't anywhere close to the i-series so that people don't confuse it with i20 or expect it to be anything similar to the previous offerings. Well, the fear of the company is quite understood as it just wants to make sure that its offering is considered a league apart from whatever else it has offered in the past. What do we possibly know about this upcoming Hyundai 2015 SUV is on your mind right now, right? Well, we won't say we know it all but we sure do enough to throw some light on the kind of look it sports and the new additions.
We would begin with the headlamps that are fairly sharp , ones that you can not miss also because they beautiful go with its grille, which is chrome and hence stands out! There are other design features too like the rising window line which makes for an interesting element, one that is sure to excite people also because we hadn't expected it coming our way! There are also the wraparound tail lamps, too that are an addition worth mentioning.
The engine of the upcoming Hyundai 2015 SUV is going to be the same as the one that comes fixed in Hyundai Verna. Gearbox, as we have heard is going to be the same as the Verna, as well. There is a lot that we are going to not share with you because surprises are good, especially if they come from the vehicle world!