Tag Archives:
new Infiniti QX80
To keep repeating success is a great thing. However, it needs to have a different flavor, different attitude each time. There have to be some new accomplishments, some new talking points and some new attractions. That is when the miracle of repeating success gets a new charm. So, while a vehicle brand may have a lot of creations to its credit but it needs to work really hard to make sure that it produces a different magic every time. It is not really a pressure game but it is simply important to keep people talking and amazed at the same time. Talking about amazement, here's presenting the upcoming Infiniti QX80 2015 that is a gorgeous blend of luxury and adventure. For everyone who has a thing for luxury is sure to lose their hearts to this one and for those who never give sports utility vehicle a break will give in to its energy. It is as if this is what the world had been waiting for. So, there, Infiniti QX56 was a hit too but the company has beautifully delivered a machine that is sure to repeat its success saga. Just the thing we were talking about.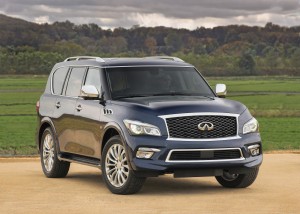 What makes the upcoming Infiniti QX80 superb, you ask. Well, from looks to performance, there is everything that you need to sweep you off your feet. Let's take it one by one. Talking about the engine first – this one comes fitted with an amazing 5.6 liter V-8 engine. It generates around 400 horsepower, making it one hell of a powerhouse. It is just what all of us secretly fantasize about. However, there are experts who don't forget to mention that this one is likely to feed greedily on power, perhaps more than expected. However, that is a risk most people are willing to take and find out, for there are so many other things to look forward to. If the EPA rankings are to be believed, it is likely to deliver 14 mpg on city roads and approximately 20 mpg if one hits the highway. The cumulative number rests around 16 mpg and it is far from disappointing, considering what other SUVs have to offer, not to forget that this one is a tremendously unique affair.
Let's move on to the exteriors of the upcoming Infiniti QX80 2015 which have been very tastefully designed to impress and kill! There is a wonderful play of chrome. The frame is extremely stylish and the features, very innovative. What else will you call a feature called backup collision intervention! There are side mirrors that are power-operated and the front lights are jazzy, too – these are carefully chosen Xenon high density!
The upcoming Infiniti QX80 2015 comes fitted with two rows of seats in the back and there is ample room for a family. So, there is all the glamour that you ever wanted, the sturdiness too and there is no reason you should let your excitement rest for this one!
Infiniti QX80 is the newly named 2014 avatar of the Infinity QX56 from last year. One of the best full sized SUV in its niche, the Infiniti QX80 virtually has it all to qualify as the best when one talks about a big, powerful vehicle that looks just at appealing as it rides. The 2014 Infiniti QX80, for the very reason of being super amazing in the first place, remains unchanged for this model year, despite a little addition in its safety system. Back-up Collision Intervention would be the unfamiliar little thing when you lay hand on this year's Infiniti QX80.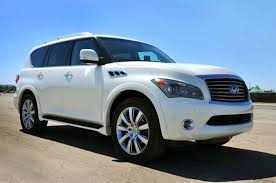 While the beast offers humungous power, rating at around 400 ponies, it keeps the strength of Hercules, towing a whopping 8,500 pounds at once. All the muscle comes from the V8 that sits under the hood of this plush 2014 Infiniti QX80. Just as the strength of the vehicle leaves one in awe, the interiors stand equally breathtaking. Classy and sophisticated, the interior of the 2014 Infiniti QX80 is capable of making at least a sum of 6 people, to enjoy its luxurious ride, together. And since the vehicle seems to be on a spree of acing in every other attribute how could it possible lag behind when it comes to safety. Every possible safety technology one can ever need can be found in at once in the 2014 Infiniti QX80, along with the newly added, back-up collision improvement system.
The entire rumble for an Infiniti Qx80 comes from a 5.6 liter eight cylinder engine, which readily produces about 400 horses and 413 pound feet of twist. The V8 is mated to a seven speed automatic transmission which is standard for the 2014 Infiniti QX80; as is the rear wheel drive. The deluxe sports ute comes with an optional four wheel drive as well. The SUV is capable of reaching a speed of 60 mph from rest in a sprint time of 6.8 seconds, which, as a matter of fact, is quite impressive for a vehicle that big. Even the EPA ratings of this luxury SUV do not fail to impress with a combined 16 mpg that is 14 mpg city and 20 mpg highway.
The 2014 Infiniti QX80 comes with a fully equipped cabin that is pure delight to look at. The supreme quality materials gone into the making of the interiors of 2014 QX80 surely mark their presence. While the amazing array of gauges and bells and a monitor bring pleasure to those who are in love with technology, the amazingly simple user interface helps those who're not into it all that much.
2014 Infiniti QX80 impressively justifies its brand name by being amazingly athletic. The buttery smooth shifts, strong acceleration and the agility of a ninja all packs into one brawny vehicle called the Infiniti QX80 that stands proud on 22 inches wide wheels. While the SUV faces a fair amount of competition with models like the Mercedes Benz GL Class and the Escalade or even the 2014 Lexus LX 570, the Infiniti QX80 has something about it.