Tag Archives:
new Mazda CX-5
The driver pleasing Mazda CX 5 is back in 2014 and that too with the bang on Touring and Grand Touring Models offering front wheel and all wheel drive options to choose from. Now the compact SUV lovers can also find 184 hp, 2.5 liter inline four in 2014 Mazda CX-5 which is also a high selling point of Mazda6 Sedan. However, going a step ahead from its previous versions, the SUV also sports useful and additional 29hp along with 35 lb-ft of output and all is made available even in the basic sport trim level. Option of automatic and manual gearbox, Mazda built six speed automatic transmission to mate with 2.5 liter CX-5 and an additional piece of Mazda's Skyactive technology are some things to look out for in the futuristic SUV.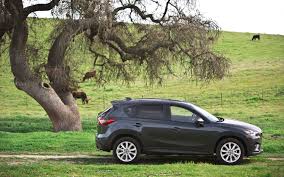 Undoubtedly the all new 2014 Mazda CX-5 has set the soaring high standards for compact SUVs with its smooth handling and driver enjoyment, however the 2.5 liter dispense manages to offer only modest acceleration. Its takes approx 9s for 0 to 60 mph acceleration, but Mazda claims to offer 8s assurance with 2.5 liter version. Competitors offering turbocharged and V-6 engine options are still way ahead from the 2014 Mazda CX-5, but when it comes to driving in twisting tough roads, the car comes as a winner.
The automatic version is surprisingly quick, adept and downshifts crisply with the less sharp upshifts. The base architecture of CX-5 might be copied from Mazda 6, but it lacks paddle shifter or manual gearbox which is a apart of sedan. Like earlier versions, this time as well 2014 Mazda CX-5 offers handling balance, steering wheel, braking feel, ride control and a lot more beyond the ordinary levels of SUVs offered in this class.
The weight of the compact SUV gets modified with the trim level you wish to buy, as the weight gain with new engine has gone only about 100pounds up approximately. The fully loaded diesel version we test drove is packed with standard Mazda features that prominently include electronic gewgaws, 5.8 inch touchscreen, big console dial/mouse device, easier panel to adjust radio volume and station, dedicated knobs and buttons for tweaking climate control system. The design and finishing of the new 2014 Mazda CX-5 is done keeping in mind real people driving in real world, so hats off to the designers.
Although the compact SUV by Mazda is packed with adequate power but it also lags behind with its one negative point, which is occasional intrusion of road noise over coarse road surfaces. Although Mazda is considered quieter than its competitors but this time it disappointed in that department. Clean and functional interior design might look bland to those who have good experience with top end SUV models going beyond $30,000. At this price, Buick Encore has better and luxurious trimmings to admire.
The 2014 Mazda CX-5 has no competition in driving enjoyment that comes with all round balance and excellent ride charm, until you start looking for accelerative thrills to have fun drive above everything else.
The CX-5 has been a huge success for Mazda, a company that more than often struggles to get the attention of buyers more inclined to shop other brands.  The CX-5 is a perfect blend of good looks, general feature content, ample space and car like driving dynamics that resonated perfectly with folks looking for a compact crossover SUV. The only little possibility to improve was under the hood. And this issue was addressed in the 2014 Mazda CX-5. The Mazda CX-5 gets a welcome infusion of power for 2014 as the Touring and Grand Touring models get a bigger engine. Fortunately, the fuel economy is barely affected. Other additions to the new Mazda CX-5 include the availability of a collision warning and assist system as well as HD and Pandora radio services.
The 2014 Mazda CX-5, a 5 passenger compact crossover comes in Sport, Touring and Grand Touring trim levels. The base Sport is a standard with 17-inch wheels, full power accessories, key-less entry, cruise control, a highly adjustable driver's seat, a tilt and telescoping steering wheel and a 60-40 split folding rear seat. The Touring gets the Sport's additional equipment plus a more powerful engine, a rear camera, a blind spot warning system, a six way power driver seat, a 40/20/40 split-folding rear seat and a six speaker sound system. The Grand Touring includes everything that there is along with 19 inch wheels, automatic headlights, automatic wipers, dual zone automatic climate control and an eight way power driver seat.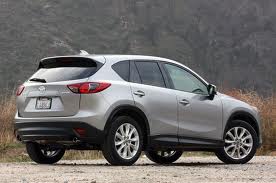 While the Sport carries the 2.0-liter four-cylinder engine as the last year that produces 155 hp and 150 lb-ft of torque and a six-speed manual transmission that takes the little crossover from rest to 60 mph in 9.7 seconds the Mazda CX-5 Touring and Grand Touring sport a 2.5 Liter four-cylinder good for 184 hp and 185 lb-ft of torque. The six-speed automatic transmission is standard. The way the 2014 Mazda CX-5 drives is a dynamic departure from the compact SUV's segment's otherwise typical low standards. The brakes, suspension and steering are uncommonly capable! The new Mazda CX-5 is downright fun and confidence-inspiring on a curving road. The six-speed automatic transmission shifts quickly and smoothly and makes the drive a completely indulging experience.
Mazda CX-5 will be one of the most enjoyable little SUV to drive. Mazda, once again, proved that sensible is not equal to boring. Of course, there are an awful lot of worthy competitors to consider. The Ford Escape offers available turbo power and a more appealing interior, the Honda CR-V is a more utilitarian choice and the 2014 Subaru Forester boasts stronger credentials for off-road use. But, the 2014 Mazda CX-5 should be strongly considered. Though the concept is quite conventional the execution is truly unique. The best-handling compact crossover shines in its driving experience and that makes the people who drive it won over by the Mazda CX-5 in a heartbeat. The pricing is not yet known for the Mazda CX-5 compact crossover but more would be know when the new CX-5s roll into the dealer showrooms in the early 2014!