Tag Archives:
new toyota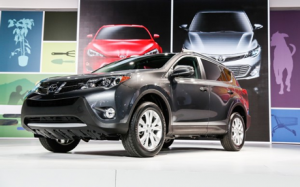 Have you heard the news? Toyota recently debuted its amazing, all-new 2013 Toyota RAV4 at the 2012 Los Angeles Auto Show, and auto experts and fans everywhere are taking notice! The redesign is the first for the hot-selling small SUV in the past seven years, and here are some of its standout features:
2013 Toyota Rav4 Specs to Remember:
Sufficient Space: The new RAV4 is about the same size as its predecessor, though it has been granted additional cargo space. It has the ability to sit five adults.
Plenty of Power: Though the optional V-6 engine is no longer available, the standard 2.5-liter four-cylinder engine is still relatively powerful, as it boast 176-hp and has the ability to tow 1,500 lbs.
3 Driving Mode Selections: More remarkable is the intelligent all-wheel drive system, which offers drivers three driving modes from which to choose. Auto mode is the most fuel-efficient, as it sends most of the power to the vehicle's front wheels and only engages the rear axle when absolutely necessary. The Sport mode sends up to 50 percent of the RAV4's power to the rear wheels and offers improved cornering due to the fact that it engages stability control to deliver torque when a turn is occurring. The Lock mode, for its part, works only under 25 mph and is essentially in full-time four-wheel drive mode. It will enable drivers to get out of muddy situations, etc.
Improved Fuel Economy: What the new RAV4 loses in power, it makes up for in fuel-efficiency. The FWD model is rated at 24 mpg in the city and 31-mpg on the highway, while the all-wheel drive variant is rated at 22-mpg in the city and 29-mpg on the highway.
Three Available Trim Levels: LE, XLE, and Limited trims are available, and each model comes standard with 60/40 split rear seats that both fold and recline, Bluetooth connectivity, a six-inch touchscreen audio system, a rearview camera, stability and traction control, and anti-lock disc brakes.
Luxurious Features: Heated mirrors, fog lights, dual-zone climate control, and a power moonroof are included with the XLE model, while the Limited trim adds such features as heated front seats, a power driver's seat, and comes with options such as a premium audio system and a blind-spot monitoring system.
A Sleeker Exterior: A more attractive exterior features a swing up rear hatch (instead of the side-hinge setup), a power-operated liftgate on the Limited model, and a more angled rear profile.
The new RAV4 will find competitors in several recently designed SUVs, including the Mazda CX-5, the Honda CR-V, and the Ford Escape. Base pricing has yet to be announced, but we doubt it will jump much higher than the current price tag of $23,460.
What do you think of this new SUV? Reviewitonline.net wants your opinion, so be sure to leave a comment and let us know what you think, and don't forget to stay here for additional auto news!
What do you and your family look for in a vehicle? Is it versatility, a large amount of safety and technology features, or a ton of cabin and cargo space? Maybe you even search for the most fashionable vehicles available so your family can travel in style. The truth is, there are many aspects you should consider when purchasing a new vehicle to fit your family's busy lifestyle.
Every year, Parents magazine joins with another prominent auto review site to choose the best family cars available. This year, three Toyota models made the list. These models are: the Toyota Prius v in the high-mileage category, the Toyota Sienna minivan in the large vehicle category, and the Toyota Camry in the sedan category.
– Completely redesigned for the 2012 model year
– Excellent technology features, including Entune
– Tons of cabin and trunk space for busy families
– Holds the honor of being Ameica's best-selling car
– Achieves 44 mpg city/ 40 mpg highway
– Full of technology features, like iPod input, Bluetooth, and satellite radio
– Excellent safety features: stability and traction control, several airbags, Toyota Safety Connect telematics system, and a pre-collision safety system
– Flexible cabin that can configure to fit several different cargo and family combinations
– Futuristic technology features to keep families entertained
– Was completely redesigned in 2010
– Nine amazing trims from which to choose
General Manager and Group Vice President for Toyota Division, Bob Carter, acknowledges the awards and notes that the company is proud to produce such reliable and versatile vehicles and that families know that they can always rely on Toyota vehicles for the utmost quality, safety, and durability. It's also apparent, however, that the technology and convenience features available in these vehicles help to make busy families' lives much easier.
If you're looking for a great fit for your family, it's worth considering these new Toyota vehicles. And, as always, be sure to check out our reliable, comprehensive reviews!