Tag Archives:
Nissan Murano
Amidst all the speculations, Nissan has managed to redesign its Murano for the 2016 SUV market, which they have already started road testing as well that has set the gossips mills further. The size of the car makes it look more like a toy car constructed into a full fledged SUV as the company has made no comprises in the inclusion of outstanding features. Undoubtedly, the 2016 Nissan Murano is designed with the thought of grabbing attention of the drivers, which becomes more obvious with its leaked pictures that show a C-pillar design indicating that the car is based on resonance concept, which already become clear when Nissan shared its future plans in the 2013 Detroit Auto Show.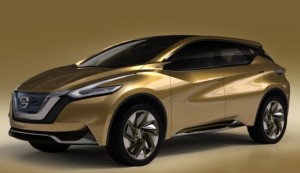 The boomerang shaped headlights are rather very attractive making the front look sleek and stylish. Additionally, you can expect some extravagant grille and light clusters that will surely grab your attention. Nissan has still not revealed anything about the interiors of Murano, but going by the previous SUV models from Nissan, we can expect the Murano to have roomy cabin along with soft touch high quality material upholstery. It is also being said that 2016 Nissan Murano will have ample of cargo space with comfortable seats for passengers.
We are also expecting some exterior changes in this year's Murano like changes in the roof, steep windshield and ripped sidelines. The only confirm information about the interiors of the Murano is that it will sport roomy interior with classy design that can be different for its trim levels depending on the cabin space.
Experts are speculating that 2016 Nissan Murano will come with a unique sense of style and sophistication which will provide maximum satisfaction to its buyers. It is also expected that Nissan will give Murano an expensive styling makeover that will make it look more aggressive and bold. Inclusion of additional power displacement with delivery will not only improve its performance but also enhance its fuel economy. Chances are high that the Nissan will also launch the hybrid version of 2016 Nissan Murano.
Under the hood, 2016 Nissan Murano is expected to come with two engine choices, wherein the first one will be 3.5 liter V6 engine, which is borrowed from Maxima Sedan from Nissan. The second engine option will most probably be a hybrid version with 2.4 liter engine. Incase Nissan opts to come with a diesel engine option it is most likely to be a four cylinder dCi with 2.0 liter clean diesel capacity. This kind of engine is expected to have slightly less amount of power but will surely boasts off plenty of torque along with excellent fuel economy.
It is also expected that Nissan will mate its engine options with CVT automated transmission, wherein the hybrid version of Murano will come with electric motor tool accompanied by the powertrain which is already available with the Pathfinder from Nissan. Nissan has kept the basic dimensions for Murano unchanged, with the only difference of removal of third row seats which has been ditched by almost SUV maker this year.  Price for 2016 Nissan Murano is expected to remain around $35,000 and will be available by late 2015 or early 2016.
It's just not the Land Rover that has got the cheeks to pull off an SUV that's a convertible too. The automaker, Nissan with its 2014 Nissan Murano CrossCabriolet does just the same. Topless utility vehicles have a charm of their own. It's like owning the best of both worlds in a single vehicle. Of course, this is an unconventional pairing but hey! Who doesn't want to ride a convertible? A convertible SUV!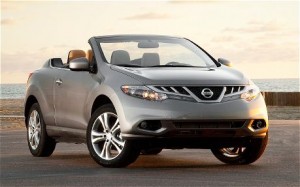 Nissan Murano has been a well known competitor in the midsized crossover niche and the Murano CrossCabriolet carries about the same size besides a little increment in its height. The standard all wheel drive, this topless crossover, is one fine ride and offers enough ruggedness to be driven in every sort of weather.
Under its hood, the Nissan Murano CrossCabriolet features a 3.5 liter six-cylinder engine that readily produces 256 ponies and 248 pound feet of twist. Both the numbers travel a notch up as compared to the Murano with a fixed roof. Along with the all wheel drive, that is standard, as told, the Murano CrossCabriolet's engine is mated to a continuously variable transmission. 2014 Nissan Murano CrossCabriolet is capable of reaching 60 mph from rest in a sprint time of 8.2 seconds, which is quite comparable to the regular version of the vehicle. Offering 17 mpg city and 22 mpg highway, the 2014 Nissan Murano CrossCabriolet gives an EPA rating of 19 mpg combined.
On the inside, the Murano CrossCabriolet carries interiors, just as indulging as the regular Nissan Murano. There is a prominent use of chic and plush materials like leather and wood to add to the richness of the whole look. The vehicle, to anyone's surprise, is also quite roomy. One can easily enjoy a laid back drive in this ragtop. Also, the user interface of Murano CrossCabriolet's navigation system is amazingly simple to use, grabbing a positive mark for the vehicle.
The 2014 Nissan Murano CrossCabriolet drives quite finely. The engine is just right to provide the needed power for the vehicle and it becomes fun driving a Murano convertible. The CVT is a good choice for this vehicle, enabling smooth shifts as well as sparing you from the awful noises that are usually accompanied with a continuously variable transmission. Handling doesn't impress as much when it comes to the 2014 Nissan Murano convertible. Also, while the convertible cruises comfortably, offering a relaxing ride, it does not give you the least bit of the pleasure of athletic turns and sporty driving. Foe the very reason that its roof is missing, the 2014 Nissan Murano CrossCabriolet has got a tad bit of rickety frame and henceforth, a shaky steering.
A utility vehicle that lets you take the roof off when you're cruising on an expressway, on one fine sunny day, is somewhat of a treat and the 2014 Nissan Murano CrossCabriolet is one such treating vehicle. Appropriate for easy leisurely cruising, the 2014 Murano Convertible looks simple and drives sensible, while offering all the space one could need from a vehicle this size.