Tag Archives:
Nissan Xterra
The changing times have made crossover SUVs the most sensible choice for today's shoppers, but the craze for traditional truck based SUVs it still not over and that becomes clearly evident with the popularity of 2014 Nissan Xterra, which excellently qualifies to become a function over form midsized five seat SUV. The all new 2014 Nissan Xterra is designed specifically keeping in mind the requirements of buyers who love to enjoy great outdoor travels especially while travelling on beaten tough path and can also make a good drive to handle daily chores. For the out goers, Xterra has simple and easy to go interiors with compartments for muddy gears, it's quite a bit off road capability is because of its rugged suspension and an all wheel drive feature.
For out and out dirt and snow trail kind of buyers, the 2014 Nissan Xterra comes with a pretty good and appealing package. Its comfortable and more civilized ride is an exception especially when you are comparing it with other off road themed body SUVs. A standard 4.0 liter V6 engine of 2014 Nissan Xterra is certainly enough to blow your mind away only if you do not drive it along any other modern crossover SUV falling under this price range as it may make you feel a little rudimentary or even crude. Talking about the negatives, you will find that turns in tight spaces are clumsy and from inside you will find a lot of hard plastic surfaces which are actually the part of its interior and also quite common with Nissan. The addition of Bluetooth across this line is a welcome change from Nissan and is also highly appreciated by many of the reviewers. If you take a step ahead and move up to 2014 Xterra Pro 4X you will also be blessed to enjoy features like Pandora and iHeartRadio, making song streaming like a dream come true, but this facility can only be availed if you smartphone has cell service even in the remote locations.
If you are looking for some serious kind of four wheel drive SUV, then there are some other considerable options falling under Nissan Xterra's price range. The toughest competition is coming from 2014 Jeep Wrangler which is even more capable in it's off road abilities and also boasts off a vast section of aftermarket additional performance parts. But the Wrangler is not meant for your daily use and it is where the 2014 Nissan Xterra becomes an ideal off roader. Another competition is coming from 2014 Toyota FJ Cruiser, which is still in its final production year and is speculated to be as off road capable as the Wrangler with the only drawback of reverse opening rear doors, which can become quit a headache if dealing with kids on the backseat.
Meanwhile, of an off roader is a complete no-no for your list and you are in search of peaceful SUV, then you can go for any of the current generation all wheel drive SUV like Jeep Cherokee or Subaru Forester as they both are light duty and easy to handle offering better driving manners. But for off roaders, 2014 Nissan Xterra deserves at least one deep look.
With 2014 becoming the year of small to midsized SUVS, the emergence of 2014 Jeep Wrangler seems like a welcome relief. To begin with, it is a complete no nonsense vehicle and remains at its best to keep its tradition even when the pavement ends. The classic SUV from Jeep is powerful enough to climb rocks, frolic in sand dunes or even cross streams whenever required just to please its passengers. Its standard four wheel drive feature and excellent ground clearance makes it a complete off road vehicle for those who love adventure.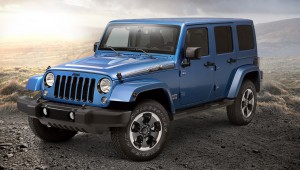 The only thing that you cannot expect from a Jeep Wrangler is comfort, even though the 2014 version is being talked highly as the most civilized version from the lot, the Wrangler is noisy and rough which are absolutely not the features of a midsized SUV falling in this price range. However, if you are among those who love to spend weekends off road then surely 2014 Jeep Wrangler is your best bet. It is undoubtedly the most versatile kind of SUV you can find in the market because it gives you complete liberty to choose between its two and four doors, along with detachable roof, doors and even a windshield if you want to make your ride a little airy from all sides. It is arguable that whether you would like to drive Wrangler on road without these special features, but it is recommended to choose soft top cover over its heavy hardtop covers if you will be driving it al fresco for your daily chores. This will only make your 2014 Jeep Wrangler more vulnerable to thieves as removing and reinstalling these features can take a hell lot of time as well as patience. Now it's up to you how you take these additional features because for some they are charming while for others they are unnecessary and complete waste of time.
Of course, Wrangler has its own share of issues which cannot be brushed aside, wherein its long braking distance is a prominent one it's handling on paved roads is not as steady as you may find in other refined SUVs of this class. Still, driving 2014 Jeep Wrangler is fun because its short wheel base makes it quite easy to maneuver in tight spaces if you are completely fine with slowing down the steering. The powerful V6 engine of 2014 Jeep Wrangler is efficient enough and it comes with a host of factory options list to choose from along with easy availability of aftermarket parts supplied by several independent companies.
If you are not completely satisfied with the rugged off road capabilities of Jeep Wrangler, then it will be good for you to actually take a long test drive of the vehicle because without that it will be difficult for you to understand how cool this compact cross over is despite being almost the same as the earlier versions, the few tweaks have made it better than other livable crossovers like Nissan Xterra or Toyota FJ Cruiser, which are also a good option only if you want to drive them on regular basis. If you want to get back to basics and nature as well then surely 2014 Jeep Wrangler is a perfect bet.