Tag Archives:
nissan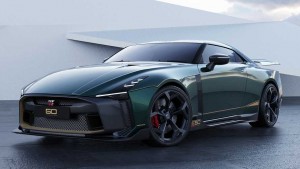 Early this year, we have been graced with the unveiling of the concept and production versions of the new Nissan GT-R50 by Italdesign. Before the year ends, we will see the prototype of the limited edition series supercar again at the 2019 Nismo festival, and its customer model will be finally showcased at the 2020 Geneva Motor Show in March next year.
The GT-R50 uses the latest Nissan GT-R Nismo platform, and it will only be limited to 50 samples. Its maker said that there are "significant number of deposits already taken" from customers who want to get their hands on the supercar. Although the automaker didn't release the official figures yet, they said that there are only a few reservations left for the product.
Orders for the GT-R50 will arrive between late 2020 or the end of 2021, depending on the location of the buyers. The rare car starts at €990,000, excluding taxes and other fees. That's a hefty $1.12 million on the US market, which can already buy you around five GT-R Nismo units. Of course, the price can still bubble depending on the optional add-ons that the customer will put in the auto.
The GT-R50 is equipped with extensive exterior and interior modifications that include a new hood, head and tail lights, air intakes, front spoiler, side apron, special paint options, mirror caps, bespoke wheels, and retractable rear wing, among others. The customizations available for the car basically depends on the budget and preferences of the buyer.
The most mind-blowing feature of the GT-R50 comes under its hood in the form of a twin-turbo 3.8-liter V6 engine. The power unit offers 710 hp and 575 lb-ft of torque. All that power is distributed via a six-speed automatic transmission system. These are complemented by upgraded differentials, driveshafts, suspension with Bilstein adjustable damping system and Brembo brakes.