Tag Archives:
p-51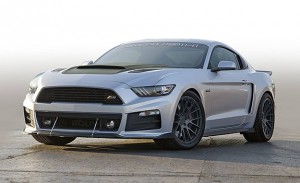 The Roush P-51 Mustang is certainly not the best among the muscle cars in current production because that belongs to the Chevrolet Camaro ZL1 and the Ford Mustang Shelby GT350/GT350R. However, one cannot deny that the 727 horsepower guaranteed by the performance car is unparalleled.
According to CarAndDriver, that power comes from a 2.3-liter TVS supercharger with a stage 2 upgrade paired with Ford's standard 5.0-liter Coyote V-8 engine. To keep everything within balance, Ford fitted the P-51 with a heavy duty TrakPak half shafts and three-way adjustable coilovers.
It also comes packed with rotors and pads for the Brembo brakes and 19-inch TrakPak wheels from Weld. The wheels are fitted with Continental ExtremeContact Sport tires.
Exterior
There are some alterations on the exterior of the P-51 such as a new front fascia with bigger upper and lower openings that promise to provide better air flow. It also has a front lower splitter made of carbon fiber, a chin spoiler, and heat extractors.
For added aesthetics, Ford fitted the P-51 with wide hood scoop, rocker skirts, scoops on the side and rear windows, and a decklid spoiler made of carbon fiber. If you will notice, the spoiler, the grille lighting, custom hood paint, and front splitter are all very specific to this model. Some of the other details are already present in most Ford models.
Interior
When it comes to interior design, the upgrades are entirely minimal. What Ford did is to fit the P-51 with a myriad of badges and plaques, including a Red ball shift knob, billet pedals, a "bomber-jacket-inspired" Amaretto Tuscany leather, and a custom gauge cluster overlay.
Price
The Roush P-51 package is priced at $42,500, excluding the cost of the Mustang GT itself, of course. There are only 51 units of the Roush being produced, so you have to get your hands early on one. For those who won't be making the cut, you can always defer to the Shelby GT500.