Tag Archives:
paris motor show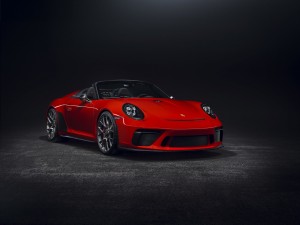 What started as a concept from the folks from Stuttgart has evolved into the Porsche 911 Speedster Concept II that was introduced at the Paris Motor Show. Now, Porsche will develop the 911 Speedster Concept II as a special edition model that will be limited only to 1,948 units.
The production of the 911 Speedster Concept II starts in the first half of 2019. Porsche has not released the pricing details yet but we expect that to be revealed in the next few months.
Exterior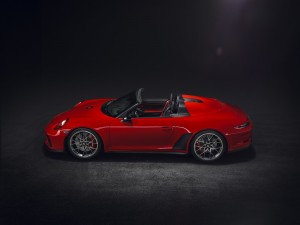 The exterior of the 911 Speedster Concept II is the same as the concept the German automaker first introduced back in June 2018, the Porsche 911 Speedster Concept. Both versions are based on the 911 Cabriolet 4 Carrera with elements of the 911 GT3 on the chassis and the carbon fiber composite.
The 911 Speedster Concept II has a shorter and more rakish windscreen, closely resembling the 356 1500 Speedster. There's a carbon fiber rear cover with double bubble design and a floating third brake with "Porsche" lettering.
The car showed at the Paris Motor Show bears the Guards Red paint finish, which has a historical significance to Porsche. It also comes with 21-inch center-lock wheels with a cross-spoke design, tinted daytime running lights, a lightweight tonneau cover, and mirror caps made with black chrome and platinum.
Interior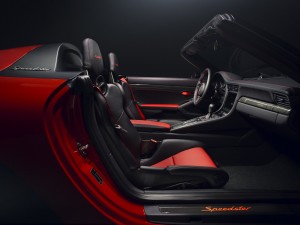 The 911 Speedster Concept II has similar elements with its predecessor. There are carbon fiber bucket seats that are wrapped in black leather with eye-catching red accents. To save on weight, there will be no infotainment system. There'll be just an empty space in the center stack. There are air-conditioning vents in the cabin but it remains unclear if there will be an A/C system in the production version.
Drivetrain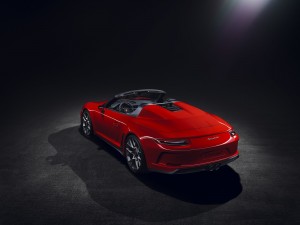 The 911 Speedster Concept II will arrive with a 4.0-liter flat-six engine that produces 500 horsepower and 339 pound-feet of torque. This is paired with a standard six-speed manual transmission that Porsche received from its own GT division responsible for engineering the special edition Speedster's exhaust system and titanium tailpipes.