Tag Archives:
Phantom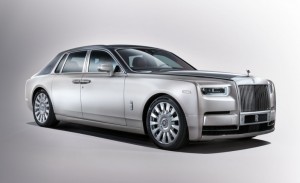 Luxury carmaker Rolls-Royce revealed its eighth-generation Phantom, the second generation under BMW, that features a full-aluminum spaceframe called the "Architecture of Luxury." The reason why Rolls decided to go into such extreme is because the spaceframe will allow the Phantom to be quieter, lighter, stiffer, and more technologically advanced.
Air Suspension Features No Bumps And Ruts
The use of a double wishbone front suspension and five-link rear axle will allow for "air suspension," which basically means the most luxurious passenger experience a sedan could provide. The new Phantom will use stereo cameras, much like Mercedes' Magic Body Control, on the front to identify if there are bumps or ruts ahead. This will allow the car to adjust the suspension at speeds up to 62 mph.
Most Silent Motor In The World
Rolls-Royce said the Phantom will have the most silent motor in the world, thanks to 286 pounds of sound insulation, "silent seal" tires, double-skin alloy, felt layers between the floor and bulkhead, cast-aluminum joints, and one-quarter inch of two-layer glazing around the car. That means the Phantom VIII is 10 percent quieter at a speed of 62 mph compared to the Phantom VII.
Don't make this silent motor fool you of the Phantom's power. It has a new twin-turbocharged 6.75-liter V-12 engine that can deliver 563 horsepower and 664 pound-feet of torque. It is paired with an 8-speed automatic transmission and rear-wheel drive system.
Safety Features Are On Point
The new Phantom will have safety and tech features, of course. Included in the package are night vision, a surround-view camera system, forward collision warnings, adaptive cruise control, lane departure warnings, and cross-traffic alerts. As for what's waiting for you in the cabin, you can expect a whole range of tech features such as the usual navigation and entertainment systems, a wi-fi hotspot, and a 7×3-inch head-up display.