Tag Archives:
pop.up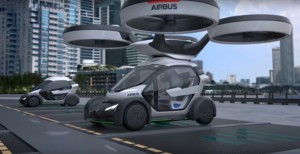 Aerospace industry leader Airbus together with design and engineering company Italdesign just unveiled a flying car at the 2017 Geneva Motor Show. The vehicle is called "Pop.Up".
Pop.Up is a concept for a futuristic autonomous transport vehicle that can travel through land and air. It uses a modular passenger capsule that can be attached to a four-wheel base for land trips and to a quadcopter for flight. As its name "Pop.Up" implies, the capsule easily snaps with the wheeled or aerial modules depending on its user's preferred mode of travel.
The flying car features an artificial intelligence system that allows its self-driving and auto-pilot functions. It can be commanded by the user with a smartphone or tablet. The video of the concept vehicle also shows a potential technology within the auto that previews the facial recognition system of its onboard sensors.
The vehicle is environmentally-friendly. It uses electric motor, which allows it to have a zero emission value.
Airbus envisions Pop.Up as a part of its network of shared vehicle platform that offers easy commuting options to the public. The company aims to lessen traffic congestion with its flying car.
The idea of a flying vehicle may be too good to be true for now, especially that automakers are still racing to make road-worthy self-driving cars. It should be noted too that there are expected legal hurdles when it comes to unleashing autonomous cars on the road—let alone a flying car. Furthermore, a lot of public infrastructure may not be suitable for a vehicle capable of low flight.
Mathias Thomsen of Airbus made a bold claim that the technology in Pop.Up will be available in the next five to ten years. He said that the problem is not so much in the public infrastructure. However, he explained that the flying car can only be seamlessly used with careful urban planning. He expects significant changes in regulatory environments once the flying car is already available for public use.