Tag Archives:
Porsche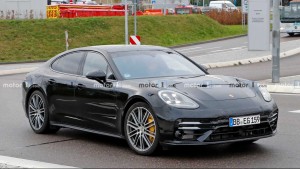 The second-generation of the Porsche Panamera was just unveiled around three years ago. So in the automotive world, it's not yet that old, but new spy shots reveal that the model is getting a mid-cycle refresh.
As the norm, a production car's mid-cycle facelift only involves a few cosmetic enhancements. That's exactly what we are looking at when the Panamera was caught by Motor1 while it was undergoing testing in Germany.
A closer examination of the upcoming Panamera model shows a few portions of it covered in black wraps. These hint the areas where the changes in the car will take place.
From the images, we can see that the front bumper and the lower part of the rear glass panel are hidden from plain sight. We suspect that the covered parts will receive styling cues coming from the latest 911. The headlamps and taillamps appear to be concealing a few graphical updates too.
Fortunately, the spy photographer also snapped a few pictures of the car's interior. From there, we can see a new steering wheel in the cockpit.
There's no information yet about any revisions in the engine of the Panamera. However, it was rumored that the car will get a new range-topping model, codenamed "Lion, that will go head-to-head against the upcoming Mercedes-AMG GT 73 4-Door. With that, the most potent form of the Panamera might get up to 820 hp.
The facelifted 2021 Porsche Panamera is expected to be unveiled as early as next year, which also coincides with the debut of its Mercedes rival.