Tag Archives:
prior design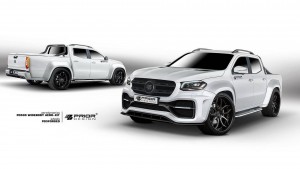 Pickup trucks used to be more inclined to their utilitarian nature. However, with the tight competition in the market, automakers have brought up their game to put more exciting features in them. The Mercedes-Benz X-Class is the three-pointed star brand's entry in the automotive landscape and it is considered to be a catalyst for a new niche in the market, which is the luxury pickup truck segment.
The Mercedes-Benz X-Class has the same platform as the Nissan Navara. However, it has successfully distanced itself from it because of the nice luxury touches that Mercedes integrated into its design. However, for those who are looking for more out their X-Class, Prior Design just introduced a new custom body kit for the vehicle.
The cosmetic upgrades provided by Prior Design to the Mercedes X-Class include a revised front bumper with large air vents, LED DRL strips and front lip spoiler. The front chrome radiator grille is also replaced by a blacked-out design. Then, the wheel arches are extended too in order to give the pickup a more aggressive look. Going around the back will reveal a rear diffuser and new exhaust tips.
So far, the changes offered by Prior Design to the Mercedes X-Class are only limited to its exterior. For those who want to get a sportier cabin, they will just have to wait for the AMG styling kit made specially for the pickup, which will come out soon.
The Mercedes X-Class is highlighted by its 3.0-liter V6 model with 254 hp and 406 lb-ft of torque. The power of the auto is distributed to its four wheels via a seven-speed automatic with shift paddles. The acceleration of the pickup from zero to 60 mph is somewhere below nine seconds and its top speed is over 125 mph.
Check out some of the pictures of the Mercedes-Benz X-Class with the Prior Design treatment in the gallery below: