Tag Archives:
R-Space Concept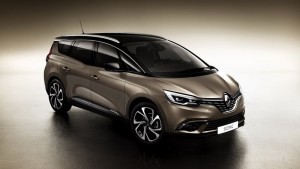 When Renault unveiled its Renault Scenic back in March, everyone was wowed as it was based on the R-Space Concept. Two months after, the company is pulling the sheet off its bigger brother—the longer, taller, wider and much better performer, the 2017 Renault Grand Scenic.
According to a source, the Grand Scenic is nine inches loner, almost an inch wider, and a half-inch taller than its smaller brother. It is a completely redesigned Renault Scenic—from the front end to the rear end. The result is a sexier compact MPV segment in the Grand Scenic.
Coming in as standards to the Grand Scenic are the 20-inch wheels, automatic emergency braking with pedestrian detection, full-color heads-up display, parking assistance, and diesel and two gasoline options.
It also has an all-new color that is exclusive to the Grand Scenic—the Vision Brown. Inside, it offers seating for five to seven people. They can enjoy the two-tone livery from the second equipment level up.
The exterior received major updates—new fascia, new headlamps, new grille and a redesigned hood. The windshield is also considerably longer and there corner glass panels before the side view mirrors.
But what gave the Grand Scenic a more elegant feeling is the 20-inch wheels with a twisted, five-spoke design. That certainly gives the Grand Scenic a more high-end appearance than the outgoing model.
Inside, nothing says spectacular than the Grand Scenic's dashboard, corner glass that eliminates blind spots, and the cluster of tech such as an 8.7-inch touchscreen display, two USB ports, SD card slot, audio jack and 12-volt socket.
Renault also boasts of the car's "Easy Life" sliding center console that allows a "saloon car cockpit feel" or a more open floor plan to make passengers more comfortable.
Pricing has not been released yet, but be ready to shell out £23,500 or $34,365 before options, taxes, and delivery.