Tag Archives:
race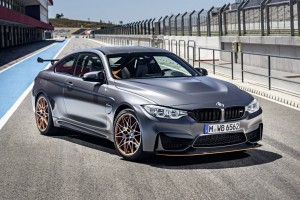 German automaker BMW is set to launch an M4 GT4 race car just in time for the 2018 motorsport season. The company is planning to join the growing list of automakers that are now offering race cars with the FIA GT4 specs.
This car, according to a report, will be the successor to the M3 GT4 that they started to offer in the last decade. There was a single teaser released, though not much can be seen there. It only showed that the M4 GT4 will closely resemble the M4 GTS road car that was launched in 2015.
The M4 GT4, however, will not be far off tech- and spec-wise from the standard M4 to keep costs and reliability relatively close. The drivetrain, the entirety of it, will be the same with the standard car. Yes, even the electronics.
This means the race car will come packed with a twin-turbocharged 3.0-liter inline-6 that produces 425 horsepower.
Of course, joining the tracks means BMW has to somehow set the M4 GT4 apart from the usual road cars. This resulted to the addition of carbon fiber body panels, an aggressive front splitter and rear wing, a high-flow exhaust system, uprated brakes, and a stripped-out interior.
Jens Marquardt of BMW motorsport said that it was easy for the company to finally decide to come up with the GT4 race car. The German automaker apparently wants to capitalize on the current attention being given to the GT4. It also aims to provide up-and-coming racers an "affordable alternative" to the GT4 race cars produced by Aston Martin, KTM, Lotus, McLaren and Porsche.
The M4 GT4 will begin its testing later this year since it wants to debut at the 24 Hours of Dubai in January 2018. The car will presumable meet the requirements set by various GT4 competitions in Asia, Europe and North America.
The M4 GT4 will be part of BMW's customer racing portfolio, which will also include the M235i Racing and the M6 GT3.