Tag Archives:
Ranger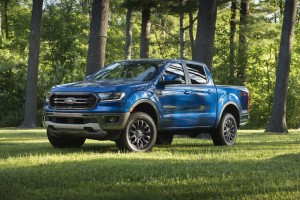 The days are gone when customers will buy a pickup truck because they need it to haul items to and from the farm. Trucks are not used today for their intended purpose. They are used as everyday cars, which is such a bummer because their four-wheel-drive iterations are made to carry heavy loads and off-road tracks.
Alas, what car manufacturers did was to create a two-wheel-drive pickup truck that customers can use for their everyday driving to and from work. But it didn't make the buyers happy at all. They want the aesthetics of the car to be like that of the standard pick-up truck, so they opt for the Sport Appearance Package, the Chrome Appearance Package, and the STX Appearance Package.
What Ford now is to create the FX2 Package. It's similar to the FX4 Package which Ford created for the all-wheel-drive Ranger. According to Brian Bell, Ford's marketing manager, the FX2 Package "expands [the] Ranger's options for customers who want tough, off-road style with the functionality of a locking differential but don't need four-wheel drive."
The package costs $595. It gets you 17-inch Hankook Dynapro ATM off-road tires, off-road suspension, a front underbody guard, and an electronic locking rear differential. In the cabin, the instrument cluster now has an off-road screen that displays information on pitch, roll, and steering angles. Standard to the package is the 17-inch tires, but buyers can opt for the 18-inch version.
Ford's decision to offer such a package comes after Chevy's Colorado Z71 with rear-wheel-drive and Toyota's Tacoma TRD.
Currently, the standard Ford Ranger is being offered in three variants—the XL, XLT, and Lariat. It is powered by a 2.3-liter four-cylinder EcoBoost engine that generates 270 horsepower and 310 pound-feet of torque. This engine is paired with a 10-speed automatic gearbox. Buyers can get the Ranger in either a rear-wheel-drive or four-wheel-drive configuration.