Tag Archives:
raptor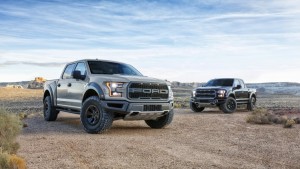 Now that Ford has officially opened ordering books for its 2017 F-150 Raptor, it's safe to look at the truck again and see why customers are lining up for this. Team Ford in Las Vegas, for one, said it has roughly 300 customers on a waiting list.
1. Exterior
The exterior of the F-150 Raptor captures the same style as the 2015 edition, although the truck is now six inches wider to increase stability. The front and rear bumpers are raised while the new LED bulbs on the headlights are perfect for dark desert trail. It also has new 17-inch wheels wrapped in BFGoodrich's iconic All-Terrain TA tire, the K02. On the side, you can find the familiar running boards, large fender flares and side graphics.
2. Interior
Since this now falls under the Raptor category, the interior received plenty of upgrades, too. It now has unique seats with leather and suede inserts, upgraded overhead console with switches and controls for the moonroof, F1-style paddle shifters, a suede- and leather-wrapped steering wheel, and carbon fiber accents around the cabin. As for the leg room, there's massive space on the rear that makes it nearly limousine-like.
3. Drivetrain
Under the hood, you'll find a second-generation 3.5-liter Ecoboost V-6 with a twin-turbo mill that can produce more power than the current 6.2-liter V-8 engine. The new engine cranks out 450 horsepower, though there's still no word yet on torque rating. This Ecoboost engine is paired with a new 10-speed automatic transmission with F1-style paddle shifters.
4. Suspension
Ford also upgraded the Raptor's suspension to keep up with the massive frame. The truck still has FOX Racing shock absorbers both at the front and rear, but these have been upgraded from 2.5-inch canisters to 3-inch units.
5. Prices
The Raptor has an MSRP of $49,520 but given the huge interest on it, expect dealers to shoot this up by $10,000.
A leaked spec sheet is speculating that the 2017 Ford F-150 Raptor will produce 450 horsepower, among other things. While the information is a mere rumor for now, we're hoping it is true and we can truly see how powerful Ford's truck can be.
That much horsepower will be reportedly packed in the Ford Raptor's 3.5-liter EcoBoost V-6 engine, the photo of which came from FordRaptorForum.com, who apparently captured a screenshot of the automaker's eSourceBook, a password-protected resource web page for dealers.
Official figures put the new Raptor's rap sheet at being able to cough up 450 horsepower at 5,000 rpm and a whopping 510 pound-feet of torque at 3,500 rpm.
It's not hard to believe that the new Raptor will be able to produce such astonishing numbers. The baseline specs for the second-generation 3.5-liter EcoBoost is 375 horsepower and 470 pound-feet of torque in the 2017 Ford F-150.
Aside from the powertrain, the leaked specs also pointed out some new features integrated into the EcoBoost such as a new roller-finger followers in the valvetrain, hollow camshafts for weight reduction, a redesigned valve-lash adjusters and new intake and exhaust valves, direct and port fuel injection, piston-cooling oil jets, a forged-steel, fully counterweighted crankshaft, and all-new turbochargers designed to delver more boost.
The Ford F-150 Raptor has big shoes to feel, and the pressure is getting stronger. Though it is not the sales king (that belongs to the Ranger), it acts as the F-150's halo trim level. On its shoulder is the pressure to outdo off-road and on-road its first generation model. Adding horsepower and torque is the perfect way to remain relevant.
Ford has remained mum about the additional power, but engineers are hard at work to fine tune the 3.5-liter EcoBoost engine. Details, according to Ford, will become available when the Raptor's release date draws to a close.