Tag Archives:
sandstorm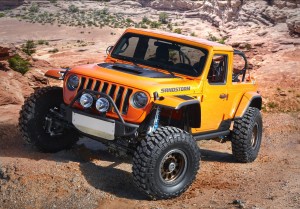 Jeep is looking at introducing seven new concept cars, one of which is the Jeep Sandstorm. It drew inspiration from the Baja racing trucks, and this is most noticeable with the V-8 under the hood and the upgraded suspension.
Exterior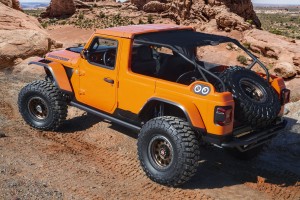 The designers gave the Sandstorm an appearance that is no doubt influenced and inspired by the Baja racers. It has a carbon fiber for a hood with square intakes and several rows of vents. The flared-out fenders out front feature more vents while the top sees an additional matte black roll cage and rear lay-down spare tire carrier. The body panels are finished in bright orange paint.
The rear side has a cleaner and more streamlined appearance, thanks to the removal of the door handles, the swing gate, and the aft doors. Other race-truck-inspired additions are the tube bumpers in front and back, the beefed-up rock rails, the racing-style fuel filler, and the KC Carbon series for the auxiliary lights and chase light.
The Sandstorm is mounted on 17-inch wheels in copper-colored inner framework. These are wrapped in 39.5-inch Krawler rubber from BG Goodrich.
Interior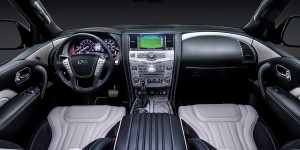 The front seats are wrapped in leather upholstery while the rear has low-back racing buckets. Tech instruments include a racing-spec gauge cluster, a seven-inch off-road GPS, and an onboard air compressor. There are also independent rocker switches for the electronics, the axle lockers, and the air compressor.
Drivetrain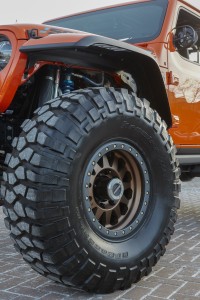 The Sandstorm is being powered by a 6.4-liter V-8 engine with heavy-duty components such as the Dynatrac 60 axles and a 5.68 gear ratio. Jeep did not say what the outputs were for the engine, but it's likely to be 485 horsepower and 475 pound-feet of torque. The engine is paired with a 6-speed manual transmission, making the off-road journey nore enjoyable.
The 2018 Jeep Sandstorm is perfect not just for the off-road or the race truck experience, but for everyday activities, too.