Tag Archives:
sedan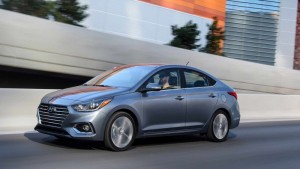 The 2020 Hyundai Accent is going to have less power output, but more fuel-efficient. It will also have a higher price tag (about $200 more than the previous model). Whether you love the direction that Hyundai went with the Accent or not, you can't fault the South Korean automaker for wanting to create ripples and waves for their highly successful model.
Not everyone agrees with Hyundai's decision to bring down the power output of the cheapest car in Hyundai's lineup to 120 horsepower and 113 pound-feet of torque. However, there is a reason behind this madness. The previous car made 130 horsepower and 119 pound-feet of torque. Truth be said, the downgrade to 120 horsepower isn't that much of an issue. It also can't deliver the better gas mileage that Hyundai is marketing for the Accent.
With the CVT, the 2020 Accent's gas mileage is up to 33 city, 41 highway, and 36 combined. In the 2019 model, those numbers are paltry— 28 city, 38 highway, and 32 combined. Paired with the six-speed manual transmission, the 2020 Accent's combined mileage goes up to two miles per gallon. The combined fuel economy is up to 34 mpg in the new model.
The 2020 Hyundai Accent is also coming with a new Smartstream 1.6-liter gas engine with dual-port injection. This engine is paired with a CVT (Hyundai calls it the IVT for Intelligent Variable Transmission) instead of a six-speed automatic in the 2019 model.
The entry-level SE trim with the manual gearbox is priced at $15,195 before a $930 destination charge. That's a total of $16,125, $200 more than the 2019 Accent. The Accent SE with the CVT costs $17,225 while the two top trims (both with CVT) cost $18,275 for the SEL and $20,230 for the Limited. The last one is $220 more expensive than its predecessor.