Tag Archives:
Series.Gray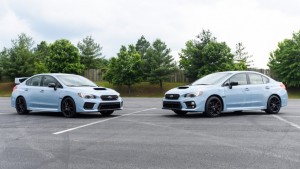 Subaru wants to keep the aging WRX and WRX STI models and it came up with a tricky way to do so. Enter the 2019 Subaru WRX and WRX STI Series.Gray. The two vehicles are coated with a coat of Cool Gray Khaki paint and finished off with black-painted mirrors, black wheels, and black badges.
The WRX Series.Gray is based on the current-generation WRX Premium. Priced at $30,380, the car has a six-speed manual transmission and the optional $2,050 Performance package that will come with Recaro front seats, power driver's seat, sunroof delete, and high-performance brake pads. The WRX Series.Gray will be sold for $33,480, and it will include all those plus a proximity key with push-button start, LED lights, and fog lights.
The WRX model underwent previous experimentations from Subaru, including special edition colors such as orange, black, and white.
On the other hand, the WRX STI Series.Gray is priced at $41,465. It comes with silver brake calipers, microsuede seats and steering wheel, and Bilstein dampers. And like the WRX, it also has Recaro seats and a proximity key with push-button start.
Aside from these limited-edition Series.Gray WRX and WRX STI, the lineup includes a slew of upgrades for the 2019 model year. The entry-level 2019 WRX is now priced at $28,080 and comes with a larger 6.5-inch infotainment screen rather than the previous 6.2-inch unit. The WRX Premium and Limited trims will come standard with a 7.0-inch screen.
It's the 2019 WRX STI that came with a lot of upgrades. There's a new intake and exhaust setup and the turbocharged 2.5-liter flat-four engine can now produce 310 horsepower, up five horses from last year's model. It sells for $37,480.
There will only be 750 units of the WRX Series.Gray and 250 units of the WRX STI Series.Gray, so better get your hands on them fast.