Tag Archives:
Shelby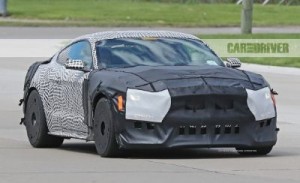 The 2018 Ford Mustang Shelby GT500 has been spotted making its rounds in a testing facility. The car is expected to be the most powerful Mustang in Ford's lineup.
In our previous article, we have featured the five most powerful American cars wherein the 2014 model of the Shelby GT500 landed in the number four spot, thanks to its 5.8-liter supercharged V8 engine with 662 hp. The 2018 model will likely surpass that based on sources.
Check out the 3 things we learned about the upcoming car based on several reliable sources:
1. Engine
The new Shelby GT500 might benefit from the 5.2-liter Voodoo V8 engine carried by the GT350. However, the GT500's engine will possibly be a supercharged version of the unit with a 90-degree crankshaft compared to the GT350's 180-degree piece. Other reports also speculate that it will get a twin turbo version. Look forward to its output being at least 700 hp.
The power of the car will most probably be distributed via a six-speed transmission for its standard model. A 10-speed automatic transmission gearbox co-developed by Ford and General Motors for the Chevrolet Camaro ZL1 might be optional.
2. Design
The 2018 Shelby GT500 is predicted to adopt the updated styling of Mustang Shelby models except the GT350. Since the GT500 sits above its siblings, it will definitely feature a more aggressive look with huge air intakes, wider fenders, sportier diffuser, angrier front bumpers and bigger tires.
3. Pricing
We might see the new Shelby GT500 before the current year ends. It will likely have a starting price tag somewhere around the $65,000 mark.
The auto will come as Ford's response to the Chevrolet Camaro ZL1, Mercedes-AMG C63 S Coupe, BMW M4, Cadillac ATS-V Coupe and the Dodge Challenger SRT Hellcat.
2018 Ford Mustang Shelby GT500 Spy Shots
Check out the spy shots of the upcoming Ford Mustang Shelby GT500 by Car and Driver in the gallery below: