Tag Archives:
small SUV
Since it was first introduced in 2010, the Chevrolet Equinox has been one of the most love compact crossover SUVs all credits to its perfect combination of good looks, comfort and practicality. Compared to some more recently launched or redesigned models, the 2014 Chevrolet Equinox struggles to remain as desirable as it has always been but it is still a model you might want to take a look at if you are searching for a compact crossover.
Above of all on Equinox's positive attribute list is the availability of a strong V6 engine. As the times goes by and fuel economy becomes a raging issue or there is a claimed lack of consumer demand, more and more automakers are dropping V6 engines from their compact crossovers leaving the Equinox (and its GMC twin, the Terrain) as one of the few handful models in 2014 to boast a six cylinder grunt for towing or hauling or merely to quench your thirst for speed. Second in the list follows the overall comfort and quietness of the cabin Equinox proudly holds. While the truth prevails that this little Chevy does not offer as much as cargo space as some rivals, but there is still enough to deal with the typical stuff that most people will be looking to haul. Then there's also the fact that the Equinox's rear seat both slides back and reclines to give second row occupants first-class legroom.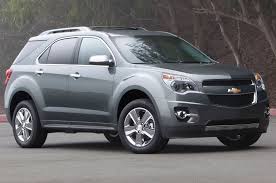 What disappoints a tad bit is the 2.4 liter four cylinder engine that is standard on all trim levels which by the way are the LS, LT and LTZ. Even the solid EPA fuel ratings don't do much justice out in the real world. Handling isn't a strong suit and the steering lacks precision even by budget crossover SUV standards.
The 2.4 liter four-cylinder engine puts out 182 horsepower and 172 pout feet of twist. The standard power and torque in the lineup are accompanied by a six speed automatic transmission and front wheel drive. The all wheel drive system comes as optional. The front wheel drive Equinox with a four cylinder engine accelerates from 0 to 60 mph in a sprint time of about 9.3 seconds. The LT and LZT models come with an option of the impressive 3.6 liter V6 producing 301 ponies and 272 pound feet of torque. The small SUV accelerates to 60 mph from rest in 7.0 seconds which is an amazing sprint time among small and midsize crossovers with a six-cylinder or upgraded turbocharged engine. The four cylinder models, when properly equipped, are capable of towing up to 1,500 pounds. With the V6 grunt the towing capacity rises up to 3,500 pounds.
While the 2014 Chevrolet Equinox disappoints with average handling, its smooth ride and the overall serenity of the cabin get it back into the game. The compact crossover faces tough competition with the more practical, roomier and multitalented Honda CR-V and other sportier models like the Mazda CX-5, Ford Escape and Volkswagen Tiguan. However, the Equinox remains worth a look if you seek for a small SUV with a truly upscale interior and a V6 option.