Tag Archives:
smart vehicles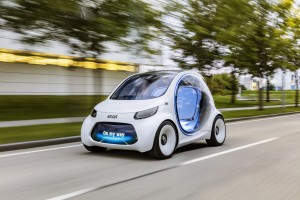 By 2019, we will no longer see Smart vehicles with combustion engines, according to Smart CEO Annette Winkler. In the next three years, Smart will slowly move away from using combustion engines and will instead focus on designing and producing electric vehicles.
The move will start in Europe and North America with the Fortwo and Forfour in the forefront. The two models will be sold only with a full-electric drive in 2019. The Asian market and the rest of the world will follow "as soon as possible after."
This is not the first time that an automaker is fully scrapping the production of combustion engines as more and more car manufacturers move towards an electrified future.
The EV Smarts, however, won't have much of a range. The Fortwo's current range is about 70 miles while the Forfour belongs on the same range. Winkler seemed to have thought about this move a lot, even the fact that the brand is only offering short-range EV cars.
For Smart, the pricing is more important than the range. To be able to have a longer range, the company would have to use bigger-capacity batteries and therefore, driving the prices up. Charging up the cars shouldn't be a hassle at all since supermarkets and car parks will be fitted with fast charging stations.
The Smart CEO seems to know that not producing petrol engines means cutting off a big chunk of the market, but she's taking it in stride. They have already "prepared" the factory and the dealers about the upcoming change in market reaction.
As you can remember, Smart was the first car to be designed especially for city use. It was also the first company to offer a customization and personalization packages in a cheap car. Do you often use your gadgets to change what's on the dashboard? That's Smart's idea, too. It's known to push boundaries, and as the first company to come up with an EV in Europe back in 2009, we're sure Smart will do just fine.