Tag Archives:
spider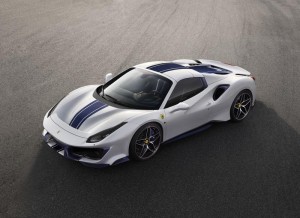 The 488 Pista Spider is the 50th drop-top model built by Ferrari since 1947. Making its global debut at the Pebble Beach show in California, the Ferrari 488 Pista Spider is officially replacing the 458 SpecialeAperta in the lineup. It is also the first of its kind to have a turbocharged engine under the hood.
Exterior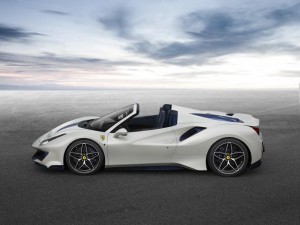 Just like its sibling, the 458 SpecialeAperta, the Pista Spider has a spanking new front bumper that includes an F1-inspired S-duct and splitter design borrowed from the 488 GTE race cars. There are also similar changes to the side skirts and the rear fender outlets. The skirts are wider and sportier while the vents have a larger lower section that feeds more air into the engine.
Completing the overall look of the drop-top convertible is the diamond-finish, 20–inch wheels in 10-spoke design. Drivers can also opt for one-piece carbon-fiber wheels that are 20-percent lighter than the regular wheels.
Interior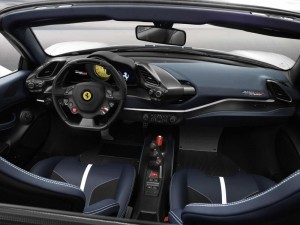 The cabin is very similar to the coupe, except that it has unlimited headroom because of the drop-top. It's finished in all black but you can customize it in bright colors, though that would be expensive.
The dashboard is the same as the one found in the regular 488, though there's the "488 Pista" badge on the passenger side that separates this from any regular 488. It is the center console that received more revisions as the "R," "Auto," and "Launch" is now placed toward the right, closer to the passenger section. The console is made of carbon fiber, which is an upgrade from the aluminum material used on the regular 488.
Drivetrain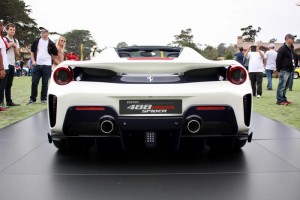 The Ferrari 488 Pista Spider is fitted with the same twin-turbo 3.9-liter V-8 that debuted in the 488 but upgraded to deliver more power. It can now make a whopping 710 horsepower and 568 pound-feet of torque. That's a 50-horsepower and seven-pound-foot increase over the standard 488 GTB.
Price
We don't have information about the pricing, but we expect the Pista drop-top to start from $350,000.