Tag Archives:
sports car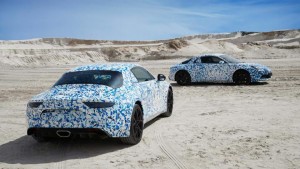 There is little we know about the new Alpine Sports Car from Renault, other than from the fact that it will resemble the Alpine Vision concept car we had earlier this year. Those who are big Renault fans can blindly order this sports car with a deposit of £1,700 ($2,141).
According to Alpine's website, the company is beginning to take orders for the sports car's "premiere edition," of which only 1,995 will be produced.
How To Order The Alpine Sports Car
It is slightly unconventional for a very traditional company like Renault to market and to promote their sports car like how they did the Alpine. To reserve the Alpine Sports Car, you need to download the Alpine app for your phone, then select your preferred number of the 1,995 being offered. That number will be unique and will appear on a plaque in the cabin when it gets delivered to you next year.
After this, you will have to choose a color—blue, white or black. The final stage is the payment process. You can choose to pay with either a debit or a credit card. There are no trim level selections and no alloy wheel options. That's how basic the reservation will be.
What We Know So Far In Terms Of Engine Specs
Renault has not even revealed the top speed for the mid-engined sports car. What we do know is that it can go 0-62 mph in just 4.5 seconds, and that it is expected to pack a turbocharged 1.6-liter or 1.8-liter petrol engine, similar to what we can find under the hood of the Renault Clio RS hatchback.
Rumors said the Alpine Sports Car is going to be a rear-wheel drive, and will come with a dual-clutch automatic transmission as standard. This is quite similar to the Alfa Romeo 4C. And like the 4C, the Alpine is going to offer lightweight as one of its benefits. It will be "fractionally" quicker than the Porsche 718 Cayman S, which packs the more powerful 2.5-liter turbocharged petrol engine.
How Renault Hopes To Attract Customers
How can the French company expect to attract customers with no details whatsoever? The "alluring history" of Alpine brand and its exclusivity will hopefully make customers download the app and reserve their own Alpine numbers.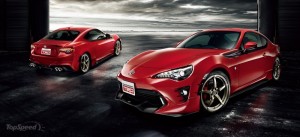 The Toyota 86 was launched as a sports car in 2012, and is sold globally with a Subaru-developed, 2.0-liter boxer engine with either a manual or automatic transmission.
As a collaboration between Japanese automakers Toyota and Subaru, the Toyota 86 was launched together with the Subaru BRZ and the Scion FR-S, though the latter was discontinued this year.
The 86 finally received an update for the 2017 model year according to a report. It got revised exterior elements, a number of interior upgrades, chassis tweaks, and a mild power bump for models with the manual gearbox.
Six months after, Toyota's performance and motorsport division, Toyota Racing Development (TRD), launched its own package for the coupe. It consisted of a race-inspired body kit and some chassis options.
This new TRD package Toyota 86 fits for those who want to turn their 86 into a race car.
Be careful, though, as this package arrives with two drawbacks—there is no addition of a more powerful engine, and the package is not available for those living outside of Japan.
Toyota, of course, will most likely make it accessible to other markets but until that time comes, we'll first just ogle at what the Japanese market can enjoy.
The package has a larger and sportier spoiler that extends under the grille. Instead of the standard body color, the splitter comes in all black and extends toward the sides for that racier look.
In addition, there are some LED daytime running lights, as well as black inserts with tiny winglets below the turning signals.
The sides are half-finished in black–the front fender inserts, the upper section of the doors, the lower section of the quarter window, and the lower side mirror. Also coming in black paint for a sportier look are the side skirts, rear wheel arch black trim, and five-spoke 18-inch, forged aluminum wheels finished in a light gold tint.
There are two additional wheel designs, both in 17-inch size, that TRD offers.
On the rear, the TRD package adds the race-inspired diffuser with larger, quad exhaust pipes and a slightly revised bumper with a more angular shape. The spoiler on top of the trunk lid comes in the body color, but you may opt for the carbon-fiber wing as well.
Drivetrain remains unchanged, though the TRD has adjustable coilovers and a new front tower brace as options.
Toyota has not revealed pricing details for the 2017 Toyota 86 TRF, so stay tuned for more info in the coming weeks.